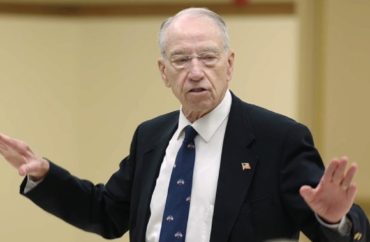 The U.S. Senate has passed a bill granting universities greater control over Confucius institutes housed on their campuses, including barring the institutes from suppressing free speech.
The bill, introduced by Sen. John Kennedy (R-La.) and consponsored by Sens. Doug Jones (D-Ala.), Chuck Grassley (R-Iowa) and Marsha Blackburn (R-Tenn.), seeks to give colleges "full managerial authority" of Confucius Institutes, which are often funded by the Chinese Communist Party.
Creatively dubbed the Concerns Over Nations Funding University Campus Institutes in the United States (CONFUCIUS) Act, the bill passed on Wednesday by unanimous consent.
"The Chinese Communist Party has made nests for its propaganda on college campuses all over our country," said Kennedy in a statement following the vote.
"Confucius Institutes are threatening academic liberty and free speech without shame, and too many American schools have fallen victim to the political con. It's time to end Communist China's deceitful attacks on democratic freedoms by giving power back to American students and educators," said Kennedy.
Kennedy specifically criticized Confucius Institutes for suppressing speech that was critical of the Chinese government.
The bill provides that Confucius Institutes must:
• Protect academic freedom on the campus where the Confucius Institute is located,
• Prohibit the application of any foreign law on any campus of the institution, and
• Grant full control over what a Confucius Institute teaches, the activities it carries out, the research grants it gives, and the individuals it employs to the college or university on which it is located.
In March, Grassley issued a letter to universities warning that Confucius Institutes were "fronts for Chinese propaganda."
"U.S. Government agencies, including within the Intelligence Community, assert that the Communist Chinese Government uses Confucius Institutes embedded in our academic institutions as a propaganda tool within the United States," Grassley wrote in a letter sent to schools with active Confucius Institutes.
On May 1 of this year, the National Association of Scholars issued a revised list of 86 Chinese-sponsored "Confucius Institutes" attached to American universities, including six that were set to close in the summer of 2020.
The bill now moves to the Democratic-controlled House of Representatives, where Republicans have begun investigations into the influence of the Chinese government on American higher education institutions. To date, Democrats have distanced themselves from these inquiries.
MORE: Senators pressure universities to drop institutes as threat to America
IMAGE: VICE News/YouTube
Like The College Fix on Facebook / Follow us on Twitter