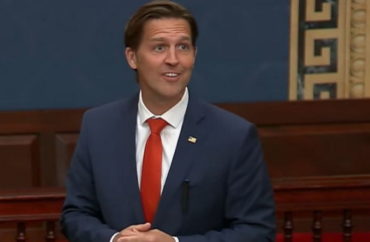 Board of Trustees vote was unanimous
Nebraska Republican Senator Ben Sasse was selected as University of Florida's next president in an unanimous vote by the university's Board of Trustees on Tuesday, according to a university news release.
Sasse will serve as the 13th president of Florida's flagship public university, pending ratification by the Florida Board of Governors, which will review the matter November 10.
Sasse spent five years as president of Midland University in Nebraska prior to being elected to office, according to his Senate bio. He also served as a faculty member at the University of Texas at Austin, according to the release.
The university announced Sasse as the sole finalist for the presidency on October 6, following a search process "that was conducted largely in secret," according to The Gainesville Sun.
"I am grateful for the Board of Trustees' unanimous vote and for their endorsement of our shared vision to make the University of Florida a world-changing institution and a pioneer in higher education," Sasse stated in the release.
"Education properly understood isn't exclusively or even primarily about transmitting information," Sasse continued. "Education is about learning how to humbly and meaningfully engage with new ideas. I want our students to be challenged and to rejoice in the challenge."
The University of Florida Board of Trustees voted unanimously today to select U.S. Sen. Dr. Ben Sasse as UF's president-elect. pic.twitter.com/7XRIl28u1X

— FLORIDA (@UF) November 1, 2022
The university reviewed more than 700 candidates for the job, according to the release.
Sasse's candidacy met with opposition from staff, students
Some faculty and students have stridently opposed Sasse's candidacy for president.
A large group of students stormed a campus building on October 10 to protest Sasse's selection as the sole presidential candidate, citing "discriminatory" political views, The College Fix reported.
The Faculty Senate voted "no-confidence" on Tuesday in the process by which he was named president, citing a lack of transparency and claiming Sasse lacked relevant experience.
"The measure followed previous resolutions passed by the United Faculty of Florida union and the UF Student Senate criticizing the choice of Sasse for the job," according to The Gainesville Sun.
Students, faculty and staff have objected to Sasse for his 2015 negative reaction, including an expression of "disappointment," to Obergefell v. Hodges, the Supreme Court decision that declared a fundamental right to marriage for same-sex couples.
Board of Trustees chair said Sasse has 'right combination of confidence and innovative thinking'
"The Board's nomination reflects our confidence that Dr. Ben Sasse is the right leader to sustain UF's momentum as one of the nation's top five public universities," Board of Trustees Chair Mori Hosseini stated, according to the release.
"Dr. Sasse stands ready to lead UF through a dynamic period in our history, and he has the right combination of experience and innovative thinking that will propel UF to the next level of leadership nationally and globally."
Sasse is expected to succeed current UF President Kent Fuchs in early 2023, who plans to return to the faculty, the university stated.
"Dr. Sasse is clearly a gifted leader with a natural talent for connecting with others," according to Fuchs. "I'm confident he will be highly effective in the many roles required of a university president, particularly in communicating on behalf of UF and in bringing resources to the university. I look forward to serving as a faculty member while he is president."
'This is a community of ideas, and communities of ideas are built on trust and respect,' Sasse said
Sasse defended the principles of liberal education, intellectual pluralism, and the "dignity of each human being" in a meeting today with the Board of Trustees.
"I'm a romantic when it comes to the importance of education and the mission of a university," Sasse said. "Students aren't machines and a university isn't an assembly line."
"A healthy university must challenge young men and women with new and even uncomfortable ideas. A healthy university must embrace debate," he said. "No wise person ever concludes they know it all. A healthy university affirms the dignity of every human being and builds a community of inclusion."
"Life is short. How are we, who are all destined for dust, going to redeem our time? Deep down we know we need things bigger than consumerism and power politics," he continued. "This is a community of ideas and communities of ideas are built on trust and respect"
"We want Gators to know why they believe what they believe. We want them to know why our community sings Tom Petty — 'You could stand me up at the gates of Hell, But I won't back down.' We sing that not because we're brash, but because our graduates are confident. We're confident because we do the hard work of learning."
"Argue with sharp minds and open hearts. See the best in the other side. As we say in our family: argue hard and hug anyway."
MORE: GOP Sen. Ben Sasse expected to resign to lead University of Florida 
IMAGE: YouTube screenshot
Like The College Fix on Facebook / Follow us on Twitter