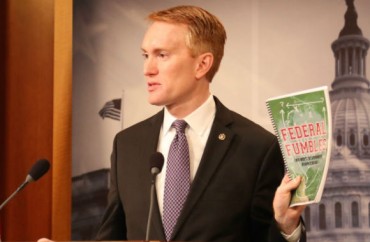 'They're just making it up as they go'
As chairman of the Regulatory Affairs Subcommittee, Sen. James Lankford (R-Okla.) has repeatedly challenged the Obama administration's arm-twisting of colleges using "guidance" documents that carry no force of law.
He has previously targeted the Department of Education for forcing colleges (through funding threats) to deprive accused students of due process, and now Lankford is going after the administration's transgender bathroom mandate for schools and colleges across the country.
The Daily Signal reports that Lankford's beef with regulators is not the content of the policy, but the "wholly unlawful" process by which it was devised:
"This administration has been notoriously focused not on passing legislation, but trying to find ways to be able to do things through regulation," Lankford told The Daily Signal in a phone interview. "But even as they try to do things through regulation, they're not trying to actually follow the rules of regulation—they're just making it up as they go, and trying to push as hard as they can and saying, 'Sue me … I'm going to do what I want.'"
Many school officials didn't find the interpretation of DoE's bathroom guidance to be inherent in Title IX. #overreach pic.twitter.com/myrLf7yOJI

— Sen. James Lankford (@SenatorLankford) September 22, 2016
As he has done with previous disputes over Title IX, Lankford accused the administration of violating the Administrative Procedure Act in its transgender guidance by not opening proposed regulations to notice and comment.
MORE: Education official bizarrely claims it's not threatening colleges
At a Sept. 22 hearing, the Education official previously grilled by Sen. Lamar Alexander (R-Tenn.) for her department's overreach, Amy McIntosh, made the same points to Lankford:
The administration's guidance, sent in the form of a letter, "is not binding, does not have the force of law, and it does not specify a single way that states and school districts can stay in compliance with the law," McIntosh said.

"There are a lot of districts that disagree," Lankford replied. …

Lankford argues that when Congress passed Title IX, it was clear the law applied to sex, not gender identity.

"They passed a bill dealing with sex," he said. "This administration has reinterpreted that, and said what they meant in the 1970s was actually gender, not sex. So they're changing the way that it's interpreted."
MORE: Give me a legal reason for dumping due process
Dept. of Ed's sexual assault guidance contains distinct changes from longstanding interpretation of law, but I guess we'll agree to disagree pic.twitter.com/4bhcLEAncU

— Sen. James Lankford (@SenatorLankford) September 22, 2016
Lankford cites the statutory language of the Violence Against Women Act – which "used both sex and gender in its terminology" – to show that Congress could have included gender in Title IX but chose not to.
His policy preference is for local control:
I don't want any child to be bullied, I don't want anyone having an unsafe situation at a school. But the local school districts should be those entities that actually handle that, not have someone from Washington, D.C., have a one-size-fits-all [solution] for every district, whether it's Hawaii, Alaska, Oklahoma, or Maine, to say this is how you will handle this issue.
MORE: Senate chairman demands feds 'immediately rein in' Title IX 'abuses'
MORE: Department of Ed SHREDDED for lawless overreach
Like The College Fix on Facebook / Follow us on Twitter
IMAGE: James Lankford/Flickr