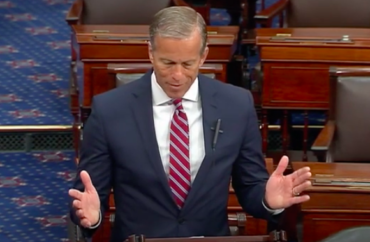 Adds his voice to the broader Republican push against Critical Race Theory
South Dakota Republican Senator John Thune gave a speech in his chamber of Congress today praising the Department of Education for backpedaling from "radical and divisive propaganda…for civics and American history education" but warning "there's still a lot of reason to be concerned."
Thune began by laying out the news that the Department of Education agreed last week not to prioritize Critical Race Theory "in applications for federal programs" that it funds.
"The department's original proposed priorities for program applications," Thune said, "had focused on aspects of so-called Critical Race Theory and cited such dubious items as the 1619 Project. The notice the Department of Education released last week dropped this discussion and indicated that the department would not give a competitive advantage to applications that reflect Critical Race Theory," which he further characterized as a "radical, leftist ideology."
Thune said that American history, warts and all, ought to be taught, but that the warts should not be the main focus.
"Any genuine approach to American history has to examine those times where we've failed to live up to our ideals as well as those times we've succeeded. But while there are sins in our past that we cannot ignore – like the great sins of slavery and segregation – there is also greatness," Thune said.
Thune also argued that there is a genuine civic educational crisis that the Department of Education ought to address.
"Just 15 percent of 8th graders demonstrate proficiency in American history, according to the most recent National Assessment of Educational Progress results. A 2019 survey found that just four in 10 American adults were capable of passing a U.S. citizenship test," he said.
After his warning that people ought to still be concerned about what President Biden's Department of Education is up to, Thune said, "The department's reversal was cloaked in bureaucratic language, leaving room for a future flip-flop by the administration."
This speech could be considered somewhat surprising from Thune, who has had limited involvement in federal education issues. He isn't on the relevant committees and has tended to focus on bipartisan niche issues in education such as boosting after school programs.
The speech happened in the context of many of Thune's Republican colleagues, such as Josh Hawley of Missouri, criticizing the 1619 Project and Critical Race Theory, and threatening to do something about it with legislation.
On Monday, July 26, Howley introduced legislation called the Love America Act of 2021, which would have both positive and negative civics requirements for schools to receive public funding. According to the Missouri radio statoin KZRG News, on the plus side the Love America Act:
Requires students to read the Declaration of Independence, Constitution, and Pledge of Allegiance and recite portions of these foundational texts at certain grade levels:

In 1st grade, students read and are able to recite the Pledge of Allegiance

In 4th grade, students read the U.S. Constitution and are able to recite its preamble

In 8th grade, students read the Declaration of Independence and are able to recite its preamble

In 10th grade, students read and are able to identify the Bill of Rights
And on the negative side, the legislation "Would make schools ineligible for federal funding if they teach that the Declaration of Independence, Constitution, or Pledge of Allegiance are the product of white supremacy or racism," KZRG reports.
MORE: Department of Education amends grant program that could prioritize antiracism and Critical Race Theory
IMAGE: Youtube
Like The College Fix on Facebook / Follow us on Twitter