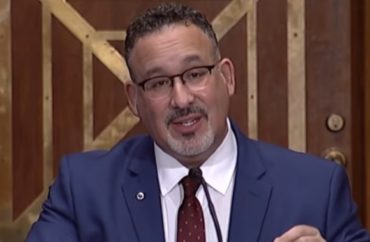 Education reform group praises decision 
Secretary of Education Miguel Cardona has amended a proposal to give grant money to curricula that promotes Critical Race Theory and antiracism.
The decision has drawn praise from an education reform group that mobilized people to submit public comment on the proposed rule.
Parents Defending Education thanked Cardona for deciding to "change course on the new federal grants for the American History and Civics Education programs."
The Department of Education withdrew "the requirement that grantees incorporate curriculum and instruction based on or similar to the 1619 Project or the works of Ibram X. Kendi."
"It is our hope that this change in the 'proposed priorities' is a sign of the administration's recommitment to historical accuracy and civics education over ideology and advocacy," PDE said.
PDE took credit for initiating the edit to the grant program. The education group said:
According to the federal register, 33,967 comments on the proposed grants were submitted to the Department of Education; the vast majority expressed concern over the Biden administration's support for making racism and slavery the centerpiece of American history. PDE played a significant role in helping parents and other stakeholders express their concerns — 11,371 comments, or over 33 percent of the total — received by the Education Department were facilitated by our comment portal.
The finalized rule for the grant program will prioritize diversity in teaching American history, but without an emphasis on the works of people like Ibram Kendi or Nikole Hannah-Jones.
"The first invitational priority encourages projects that incorporate racially, ethnically, culturally, and linguistically diverse perspectives into teaching and learning," the DOE said. The other priority "encourages projects that improve students' information literacy skills."
"The teaching of civics and history – an opportunity to better understand our past and how our government works so we can engage in and influence our future – has long provided the foundation for students to be active participants in society and help our nation live up to its highest ideals," the Department of Education said in its recent announcement.
MORE: Teachers union reportedly scrubs pro-CRT resolution from website
IMAGE: CSPAN/YouTube
Like The College Fix on Facebook / Follow us on Twitter