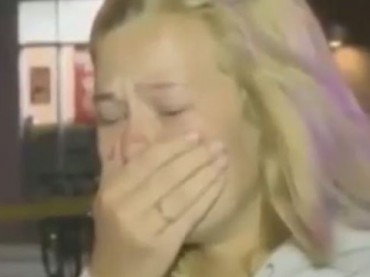 Seven people are dead and many others injured in the UC Santa Barbara college town of Isla Vista after a young man stabbed three people in his apartment then went on a drive-by shooting spree Friday night, killing three others, before the rampage ended with an apparent self-inflicted fatal gunshot wound to the head, police say.
The shooter was 22-year-old Elliot Rodger, a Santa Barbara City College student who posted a YouTube video sometime before Friday's massacre saying he would "take great pleasure in slaughtering all of you. You will finally see that I am in truth the superior one, the true alpha male."
TMZ reports the young man comes from a family with Hollywood connections who was "angry at women because they would not have sex with him." Other reports suggest he was upset that he was not among the popular crowd.
"I'm 22 years old and still a virgin, never even kissed a girl. And through college, 2 1/2 years, more than that actually, I'm still a virgin. It has been very torturous," Rodger says in his video. "You forced me to suffer all my life, now I will make you all suffer. I waited a long time for this. I'll give you exactly what you deserve, all of you. All you girls who rejected me, looked down upon me, you know, treated me like scum while you gave yourselves to other men."
"And all of you men for living a better life than me, all of you sexually active men. I hate you. I hate all of you. I can't wait to give you exactly what you deserve, annihilation."
Some of Friday's injuries may have come about as the young man hit people with his black BMW as he went on the rampage through Isla Vista, which sits just north of the sprawling, coastal UCSB campus.
"From the time we got the first 9-1-1 calls to the time we determined the suspect to be dead at the scene was ten minutes," Santa Barbara County Sheriff Bill Brown told reporters.
The names of the victims have yet to be released.
NBC News reports some of the details from the chaotic scene Friday night:
The gunfire erupted just before 9:30 p.m. in the town known for rowdy parties and a raucous weekend scene. The gunman shot victims while he was inside his car, a black BMW 3 series coupe, according to witness and sheriff's department accounts.

Nine crime scene locations were confirmed across Isla Vista, but no shots were fired on the university's campus, Brown said. At one point, the black BMW stopped outside a popular deli before rapid gunfire sprayed into the crowd.

"I heard somewhere between 12 to 20 shots into a group of people who were eating in front of it," witness Robert Johnson said.

Approximately six minutes after the initial call was received, the driver shot at responding deputies and deputies returned gunfire. The driver fled in his vehicle, encountered another deputy, exchanged gunfire and fled again.

The driver eventually crashed into a parked vehicle. When deputies approached the vehicle, they found the lone occupant dead from an apparent gunshot wound.
Like The College Fix on Facebook / Follow us on Twitter
Jennifer Kabbany is associate editor of The College Fix.
Editor's Note: This article has been updated to reflect that three victims were stabbed in a residence prior to the Isla Vista shooting spree that killed three others.
IMAGES: YouTubeScreenshots