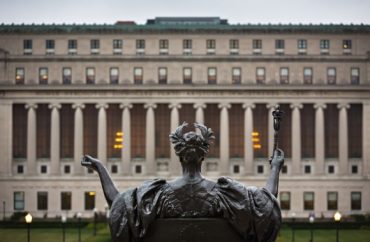 Columbia, Penn and Yale at bottom of FIRE's annual free speech rankings
Several of the nation's Ivy League schools are considered among the worst when it comes to free speech, according to a comprehensive list of rankings released Wednesday by the Foundation for Individual Rights and Expression.
Columbia University came in last on the list of 203 colleges and universities, followed by the University of Pennsylvania. Yale University's spot is No. 198.
They're joined by several institutions that are not Ivies — but prestigious nonetheless — Georgetown University at No. 200 and Skidmore College at No. 199.
Billed by FIRE as "the largest survey on student free expression ever conducted," it surveyed 44,847 students through College Pulse's online platform.
To develop the rankings, the students were asked about topics such as their comfort expressing ideas on campus, the tolerance for liberal and conservative speakers, how acceptable or unacceptable it is to protest a campus speaker, administrative support for free speech, and the level of open debate and dialogue on campus.
"It takes into account the varied dimensions of free expression on campus — from the ability to discuss challenging topics like abortion, race, and gender dynamics, to tolerance for controversial campus speakers and whether students hold back from openly sharing their views," stated FIRE spokesperson Katie Kortepeter in a news release.
Data for the list came from a mass survey issued to fulltime undergraduate students enrolled in four-year programs. Each university received a free speech score out of 100 points.
The highest scoring institution, the University of Chicago, earned 77.92 points, correlating to a speech climate status of "good."
Along with the University of Chicago, schools such as Kansas State, Purdue, Mississippi State, and Oklahoma State composed the top five. Media affairs from the University of Chicago did not respond to a request for comment from The College Fix asking how the university will continue to uphold its high score.
Conversely, Columbia University, the lowest-ranked college on the list with 9.91 points, merited a climate status of "abysmal." Media affairs at the school did not respond to a request for comment from The College Fix.
A majority of schools on the list fell within 40 and 50 points, earning the status of "average." These were often state schools, such as the University of Wisconsin, University of Kentucky and University of Idaho.
No colleges included on the list earned scores in the 80s or 90s, scores that correlate with the titles "very good" and "exceptional."
Drawing conclusions from their data, FIRE noted that, while some information obtained is encouraging, worrying trends persist for free speech in higher education, with key findings that:
• More than three in five students (63%) expressed worry about damaging their reputation because of someone misunderstanding what they have said or done, and just over one in five (21%) reported that they feel a lot of pressure to avoid discussing controversial topics in their classes. Twenty-two percent reported that they often self-censor.

• Roughly three in five students reported they would feel discomfort publicly disagreeing with a professor about a controversial topic or expressing an unpopular opinion to their peers on a social media account tied to their name.
"These findings about intolerant and disruptive conduct, self-censorship, and a pervasive national climate of worry and discomfort on American college campuses should concern anyone who supports a vision of higher education as a free marketplace of ideas, one that should produce graduates who are ready to join the vigorous debates within American
society and beyond," the report's conclusion states.
"Too many students are not ready, and too many of their colleges are not helping them but, instead, perpetuating an unclear or even a hostile climate for free expression."
FIRE Senior Research Fellow Sean Stevens said that in the past, traditionally high-ranking schools consistently voiced support for free speech on campus and openly approved of ideological diversity.
"Schools with administrations that strongly support free speech and make this stance clear to their students consistently do better in the rankings. These schools rarely, if ever, sanction scholars and most of them do not typically encounter disinvitation campaigns," he said in an email interview Wednesday with The College Fix.
Yet even the top schools for free speech have work to do to improve their tolerance of free speech, he said.
"Many [schools], compared to other institutions, are not that tolerant of controversial liberal speakers, and — possibly because many of these campuses are more ideologically diverse — students tend to report more topics as difficult to have an open and honest conversation about," he said.
The survey was conducted between January and May of this year.
MORE: Freshman orientations push DEI 'propaganda' over free speech, nationwide survey finds
IMAGE: Shutterstock
Like The College Fix on Facebook / Follow us on Twitter