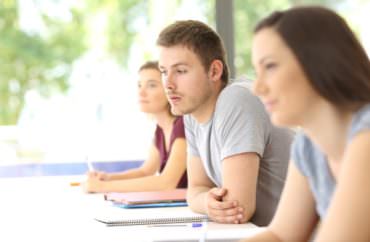 Free speech conversations 'strikingly absent' from most freshman orientations, and DEI topics covered 7.37 times more than free speech issues 
Almost all — 91 percent — of university freshman orientation programs across the country emphasize diversity, equity and inclusion topics, a recently released investigative report found.
By contrast, free speech and viewpoint diversity topics are only mentioned in about 30 percent of orientation programs, and are often "strikingly absent" from the conversation, the Speech First survey found.
Speech First, a 4-year-old nonprofit that advances free speech on college campuses through advocacy and litigation, obtained the results by filing Freedom of Information Act requests to over 50 public universities asking for freshman orientation materials.
The group found DEI topics are covered in "3.71 times more orientation slide material, 4.9 times more orientation handout material, and 7.37 times more orientation video material" than free speech topics.
Speech First Executive Director Cherise Trump told The College Fix that the process of developing the report, which took nearly a year to finish, was "wrought with delays, excuses, additional fees, and redactions."
Many universities were reluctant to comply with the Freedom of Information Act requests. While 51 universities ultimately complied, 3 universities—Arizona State University, Colorado State University-Fort Collins, and University of California-Berkeley—did not respond.
Examples of orientation DEI issues highlighted by Speech First include a Northern Kentucky University orientation video that labels the phrases "Where are you from?" and "I don't see race" as microaggressions and a James Madison University PowerPoint featuring 34 slides on diversity, power and oppression.
James Madison University spokesperson Mary-Hope Vass told The College Fix this presentation is "not in use" and that the president "will address free speech and viewpoint diversity during his opening remarks to all new students."
At State University of New York at New Paltz, Speech First found incoming students are required to take an "Implicit Association Test" asking them to match skin colors with various words, objects and weapons. The test is hosted on a Harvard website and facilitated at multiple universities nationwide.
At the University of Nevada, Las Vegas, freshman orientation features a presentation that asserts "bias" includes "a tendency to believe that some ideas are better than others" and asks students to analyze their identities using an "identity wheel."
"Freshman orientation programs must be restructured," Speech First's report states. "Currently, students have very little understanding of their free speech rights and the value this adds to their education."
To combat the overemphasis on DEI, Speech First opened a tip line for university students to share what is being covered during new student orientation.
"We know our findings only scratched the surface of what we are certain is out there," Trump said via email. "We hope that students and pro-free speech faculty send us materials from their new student orientations (videos, powerpoints, images, pdfs, etc.) that will expose universities that are attempting to impose their dogmatic political agendas onto students while encouraging them to censor and report one another if they diverge."
Speech First did find commendable examples of orientation programs at George Mason University and Louisiana State University, both schools that have made robust statements in support of free speech.
"It is not the proper role of the University to shield individuals from speech protected by the First Amendment of the Constitution of the United States of America…including without limitation ideas and opinions they find unwelcome, disagreeable, or even deeply offensive," the LSU Permanent Memorandum 79 on Free Speech and Expression states.
Several other universities, the report notes, have also taken steps to incorporate material on free speech.
The Rochester Institute of Technology announced in February it would include "free speech programming" in its New Student Orientation, as did the Iowa Board of Regents for all students, faculty and staff at the three public Iowa universities.
A lack of preparation during orientation can set the tone for greater free speech problems later on.
In a study conducted last year by Foundation for Individual Rights and Expression, RealClearEducation and College Pulse, 80 percent of students reported that they self-censor on campus. Another 66 percent said it was acceptable to shout down a speaker to prevent them from speaking on campus.
"If students are told as soon as they step on campus that they must feel guilty, ashamed, and they must be hyper-sensitive towards their peers, then they will be afraid to express their thoughts, ultimately limiting their knowledge to whatever they are told rather than expanding their minds through discourse, debate, and inquiry," Speech First states in the survey's conclusion.
Trump said she hopes her organization's tip line and report will influence universities to do more than "mention free speech subtly amidst a flood of DEI/CRT propaganda."
"I look forward to hearing from universities that have changed their ways and modified their materials to reflect a strong and obvious dedication to students' First Amendment rights, free speech, open discourse, rigorous debate, and viewpoint diversity in their freshman orientation materials," she said.
Find Speech First's full "2022 Freshman Disorientation report" here.
MORE: Indoctrination starts on move-in day: The truth about freshman orientation
IMAGE: Shutterstock
Like The College Fix on Facebook / Follow us on Twitter