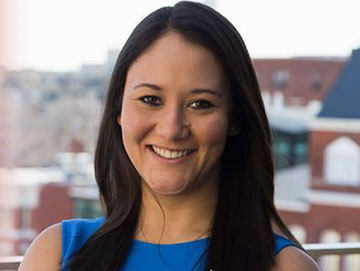 Talking about sexual-assault prevention is a winning political issue, as the incoming president of George Washington University's student government found out.
The GW Hatchet reports that Andie Dowd won her race yesterday with 52.6 percent of the vote:
Dowd's platform focused on improving health and wellness resources on campus, including placing sexual assault hotline numbers on the back of GWorld cards, putting sexual assault resources on GW's smartphone app and improving 4-RIDE services. She also committed to leading the implementation of a peer-support program, which this year's executives prioritized.
A whopping 92 percent of students voted in favor of "mandatory sexual assault prevention and intervention training at Colonial Inauguration" on a ballot referendum, the Hatchet said.
A fossil-fuel divestment referendum also won by a big margin – 71.7 percent in favor.
The incoming executive vice president had a wellness theme as well:
[Casey] Syron held a position on the [Student Association] as a senator this year, representing Columbian College of Arts and Sciences undergraduates. His platform included goals for healthier campus dining, free counseling sessions and expanding 4-RIDE's boundaries.
Like The College Fix on Facebook / Follow us on Twitter
IMAGE: Andie Dowd for GW Student Association President/Facebook