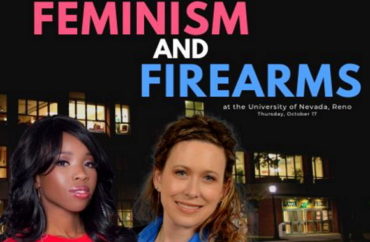 Talk, training aimed to reopen campus concealed carry debate at UN Reno
When the words "gun" and "school" are contained in the same sentence, it can conjure up images of tragedy, but earlier this month on one college campus, two women changed that narrative.
UN-Reno alumnus Amanda Collins-Johnson, who was raped by gunpoint on campus 12 years ago, and Second Amendment activist Antonia Okafor, also a sexual assault survivor, joined forces to discuss campus carry and the need to enable young women to properly defend themselves on colleges and universities.
The "Feminism and Firearms" talk took place Oct. 17 at UN-Reno, which does not allow campus carry. A handgun training workshop followed the next day.
Collins-Johnson made it her mission to promote campus carry after she was raped in a UNR parking garage in 2007. It could have been prevented if she had been allowed to carry a firearm, she said. Collins had a concealed-carry permit, but her university is a gun-free zone.
"Women aren't as strong as men," Collins-Johnson told The College Fix. "I want the great equalizer."
During her campus talk, Collins-Johnson said "the average national response time for 911 calls is 12 minutes. My rape lasted eight," reports the Nevada Independent.
In an interview with The College Fix after the event, Collins-Johnson said "it was a great opportunity to talk about what real conservative feminism looks like."
Both she and Okafor advance a message that true feminism would support allowing women to defend themselves on campuses with firearms.
"If you really believe in the feminist movement, if you believe in feminism, then it should be a natural extension to allow women — particularly on college campuses, particularly where you know sexual assaults do occur — to be able to choose how they defend themselves," Okafor told This is Reno.
Okafor is president of EmPOWERed, a nonprofit which educates young women how to defend themselves with a firearm.
The event at UNR aimed to "address the consequences of UNR's anti-campus carry rule and how students can push UNR to change the current policy," said Kara Bell, a spokeswoman for the Clare Boothe Luce Center for Conservative Women, which sponsored the event in conjunction with several other liberty-minded and center-right campus groups.
In addition to Collins-Johnson's and Okafor's talk, some attendees went to a free self defense gun course at Reno Guns & Range as part of the center's overall programming.
"We hope these two events reopen the campus carry conversation at UNR," Bell said.
At the end of the day, Collins-Johnson said, women need to prepare themselves for the inconceivable.
"We always think it will happen to someone else," Collins-Johnson told The Fix. "All we can do is minimize our risks."
"Evil is going to be done by people intent on being evil," Collins-Johnson said, but preparing can minimize that risk.
MORE: College Rape Survivor Speaks Out Against Campus Gun-Control Efforts
Like The College Fix on Facebook / Follow us on Twitter