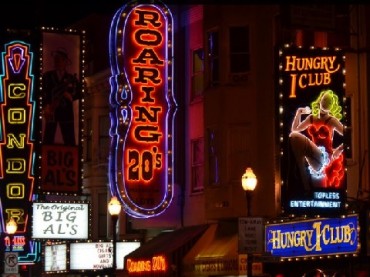 By day, they're studious undergrads enrolled at one of the most prestigious public universities in California.
By night, they're … taking their clothes off and dancing on stage for money?
Why not, suggests a cabal of San Francisco-based strip clubs that are just a hop, skip and bridge-crossing drive away from UC Berkeley.
UC Berkeley's campus newspaper The Daily Californian ran an eye-catching full-page ad on Friday that solicited college students to become strippers at six downtown clubs.
The big, bold advertisement shows a scantily clad woman behind an umbrella and the words: "Are you fun, flirty and a little adventurous? Then we are interested in meeting you! You don't need experience. Make your own schedule. Great money to be made – in CASH. Professional management teams are in place at these SF locations to help you achieve your financial goals while in school."
The ad then tells students to apply in person or call for more information, and lists the contact information for the six clubs in question: Garden of Eden, Condor, Roaring 20s, Centerfolds, Little Darlings and Hungry I.
The ad was published on the same day that The Californian ran its annual "Sex Issue." However, the ad was not published inside the sex issue, which was a mini-newspaper insert stuffed inside the usual paper. The ad was published within the normal daily version of the campus paper.
College Fix readers – what do you think of this ad? Certainly The Daily Californian has every right to run it.
But what of the ad itself? No big deal – young female undergrads are adults who can make up their own minds? Or is it an example of the hypocrisy of the feminist movement, which wants men to respect women for their minds and yet has no problem with them getting naked for their money? Is it slimy and manipulative for the strip club owners to troll for new recruits on college campuses so blatantly?
Sound off in the comments section below …
IMAGE 1: Steve Rhoades IMAGE 2: Screenshot of Ad
Like The College Fix on Facebook / Follow us on Twitter