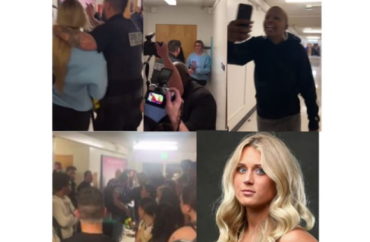 San Francisco State University's student president published a statement Monday that argued there were too many police officers present at a protest against "Save Women's Sports" activist Riley Gaines and that the demonstrators are the actual victims of the protest that turned violent.
SFSU student government President Karina Zamora, in her statement, essentially argued that due to Gaines' "hateful rhetoric" she is the one responsible for the "promotion of violence."
Zamora's statement does not mention that none of the protesters were injured and that Gaines said she was "ambushed and physically hit twice by a man." One of Gaines' supporters was shoved as well, a photo of the incident posted to Twitter shows.
Gaines was then trapped in a room for several hours by demonstrators who refused to let her out until police said those remaining in the building were unlawfully assembled and subject to arrest, the student newspaper the Golden Gate Express reported.
Nonetheless, Zamora stated the protesters are the victims and campus police the real bullies.
"I, as President of Associated Students, condemn and stand against the hateful rhetoric and promotion of violence spread by TPUSA and Riley Gaines as well as the confrontational behavior of the University Police Department at the behest of Campus Administration," Zamora wrote in a memo posted to the student government's Instagram account.
🚨 @SFSU Associated Students President, Karina Zamora, put out a statement saying there was TOO MUCH security and that the rioters were the real victims.🚨

You can't make this stuff up.🤦🏻‍♂️@Riley_Gaines_ @charliekirk11 @tpusastudents @TPUSA #RileyGaines #TPUSA #SFSU pic.twitter.com/uaGcKDVOEu

— David Llamas (@davidllamas_) April 11, 2023
Zamora called for SFSU President Lynn Mahoney and campus administration to "hold themselves accountable and host a community forum to hear how damaging these tactics have been to our student body."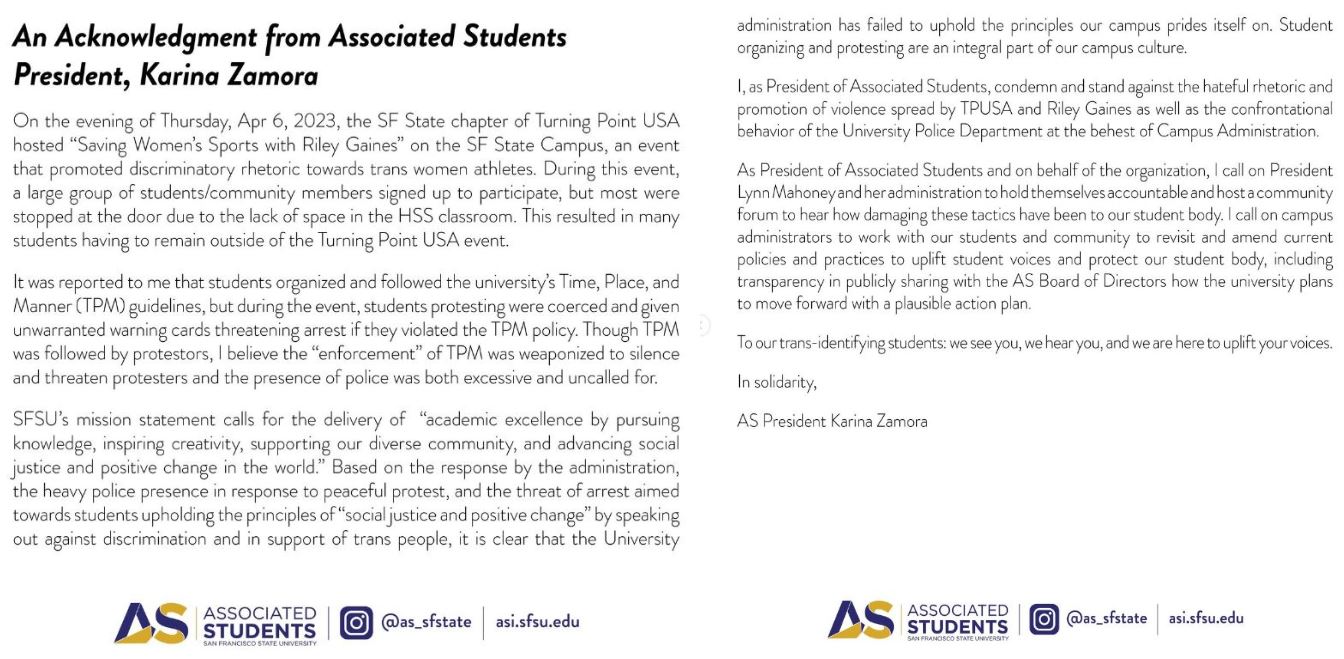 Zamora's statement comes after Jamillah Moore, vice president for student affairs, also praised the protesters and claimed the protest was peaceful.
"It took tremendous bravery to stand in a challenging space. I am proud of the moments where we listened and asked insightful questions. I am also proud of the moments when our students demonstrated the value of free speech and the right to protest peacefully," Moore's memo stated.
Gaines is a leading voice in the national battle to block biological males from competing in women's sports. An accomplished former University of Kentucky swimmer, she competed against transgender swimmer Lia Thomas.
Gaines has said she will pursue legal action against the school.
"The campus police did nothing. The dean of students was there and did nothing. There will be no repercussions unless I have something to do with it," Gaines has said. "I will be pursuing legal action. These people need to face repercussions."
MORE: Riley Gaines: 'I will be pursuing legal action' in wake of assault at SFSU
Like The College Fix on Facebook / Follow us on Twitter