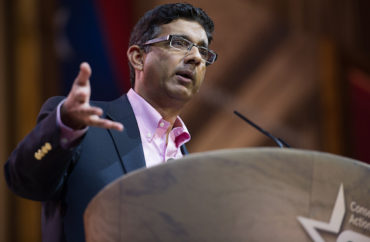 School had initially cancelled event with provocative commentator
The University of Pennsylvania has announced that it is moving a presentation by conservative commentator Dinesh D'Souza to a new location and restricting the event to university cardholders only. The school would not clarify what those security concerns were.
The student newspaper The Daily Pennsylvanian reported last week that the university had scrapped D'Souza's planned appearance at the school's ARCH Building. D'Souza was appearing under the auspices of the Young America's Foundation "Preserving American Liberty and Freedom" lecture series.
A campus spokesman last week confirmed the university was "working with the students to relocate it to a venue that will provide the speaker and attendees improved access and security." Over the weekend The Daily reported that the school had "announced that D'Souza will be permitted to speak at the Hall of Flags in Houston Hall on Tuesday." The event is only open to those who hold PennCards, the school's official identification card.
D'Souza confirmed the relocated venue on Twitter this morning, writing: "It's restricted attendance. No livestream."
It's restricted attendance. No livestream. Even so I'll make the case against multiculturalism and illegal immigration at UPenn tomorrow night @yaf https://t.co/ePLFmDxm1M

— Dinesh D'Souza (@DineshDSouza) November 11, 2019
Reached for comment, Young America's Foundation spokesman Spencer Brown told The College Fix on Monday morning that the school's claiming "security concerns" over the event "is a textbook example of the university treating its conservative students differently."
"Conservative students shouldn't be punished for their peers' intolerance. Limiting the reach of conservative ideas by blocking the public from the event is shameful, and shows that the school isn't interested in promoting freedom of expression, which they claim to support in various policies," he said.
"Revoking the venue from the students just days before their event, after weeks of planning, was irresponsible of the university and the conservative students at UPenn deserve better."
The Daily said that "reports circulated online suggesting that neo-Nazis were planning to attend the event." D'Souza said he was aware of those reports.
"My impression is that these groups are very marginal, that even in the cases where they have tried to show up at the events, all they do is ask questions that are aimed at embarrassing the speaker," he told The Daily.
MORE: University bars speakers who are too controversial with security spending cap
IMAGE: Christopher Halloran / Shutterstock.com
Like The College Fix on Facebook / Follow us on Twitter