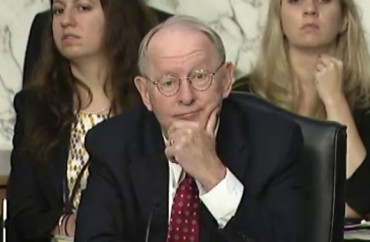 UPDATED
At a hearing last week on campus sexual assault, a Senate committee considering changes to higher-education law only allowed certain witnesses to testify – those who believe that alleged victims currently get a raw deal in campus investigations, relative to accused students.
The hearing was carried live on C-SPAN and the committee's own Web page, giving a national audience a very skewed impression of a problem that's largely caused by a combustible mix of alcohol, miscommunication and celebrated sexual permissiveness.
It was so tilted that a Democratic senator, the former attorney general of Rhode Island, had to jump in at the last minute, to cast aspersions on the ability of campus administrators to run a system with any semblance of competence or fairness.
Critics of the bill under consideration, the Campus Accountability and Safety Act, had to resort to filing their testimony for the record, away from the cameras. That's probably good for the committee members, because they would have looked like fools if these experts in the law and victimized men had counted down the multiple problems with the bill they were coronating.
Here's a sampling of what these critics wrote. (You can read the full testimony of critics here.)
You're hurting men of color, trans men and disabled students
Janet Halley, a Harvard Law School professor, noted that she had served both accusers ("complainants") and accused students at Stanford and Harvard and participated in adjudications.
Schools tend to deprive accusers of an option that they would like to have, Halley said – mediation with the accused:
Without that pathway, the options for those who feel they have experienced sexual misconduct are narrow: criminal punishment, student discipline or silence. Complainants often express frustration with this narrow array of choices; they object to the lack of a non-punitive option. … Student misconduct policies should model the arts of social mediation, negotiation and peacemaking as well as providing severe sanctions in the severe cases, where the complainant seeks that outcome.
Halley made the explosive claim that Title IX procedures used in these investigations are racist, classist, ableist and transphobic (!):
In my experience, the rate of complaints and sanctions against male (including transitioning to male) students of color is unreasonably high. The process does not pause to make sure that accused students with disabilities are offered accommodations they need to defend charges against them. Students who lack family money to pay for lawyers are at a drastic disadvantage in the process, and, given the considerable resources institutions must invest in providing support for complainants, this problem cuts strongly against the accused. Providing scant due process for these particularly vulnerable groups of accused students runs the very real risk that innocent students are being held responsible, sanctioned, and given tainted records that will haunt them for years.
(Former federal judge Nancy Gertner, who is also Halley's colleague at Harvard, also pointed to "the racial implications of rape accusations, the complex intersection of bias, stereotyping, and sex in the prosecution of this crime" in her testimony, which was simply an article she'd written on campus due process.)
'To this day, I am afraid to date'
Joshua Strange went through a terrifying ordeal at Auburn University when he was accused of both physical and sexual assault by a female sex partner whom, he alleges, got revenge on him for demanding that she stop palling around with her ex-boyfriend. If his allegations are true, his accuser (whom he's still not allowed to name) is a stunning and brazen liar whose defenders overlooked her massive credibility problems.
(The plight of students like Strange helped spur North Dakota to explicitly give students the right to bring a lawyer to a campus disciplinary proceeding.)
Strange's testimony is painful to read, and it will make you shake your head in disbelief at Auburn's Star Chamber. It would make a compelling movie:
My accuser's advisor, much to my dismay, was the prosecutor for the City of Auburn that was going to try me in criminal court. As soon as my attorney saw him, I was told not to testify in my own defense since my attorney could not actively assist me during the hearing. Again, anything said in that room could be subpoenaed and held against me in criminal court, I would have been testifying in front of the criminal court prosecutor, and because my attorney could not speak or object to anything said during the hearing, he did not want me to say anything at all.

The hearing began. She presented her case and her "witnesses" – the Title IX coordinator and the Assistant Director of Public Safety for the school – neither of who had witnessed anything and even admitted that they had not asked her any details about the "rape" incident. She testified that she had to be tutored/home schooled because I was such a threat – I have downloaded her FaceBook information that shows her at sorority rush, at fraternity parties, at football games, hanging out with her other boyfriend, and at various places on campus during this time, which directly contradicts her allegations that I was a threat to her and she was afraid of me.
Unable to correct his record at Auburn (which claims his bungled case is "closed"), Strange might as well be an ex-con trying to start a new life:
My dreams have changed. My hopes have changed. Friendships have been lost. To this day, I am afraid to date. My parents have had to struggle to pay legal bills. My mom still cries at times.
For a mother's perspective on her son being falsely accused, read Paige Danne's testimony, which echoes much of Strange's narrative:
There was an immediate hostile environment for him at school. He was treated by some of the investigative team with contempt. He had no one to talk to, no one to help him. Because the school had published the incident on the school website, he was branded a rapist from the beginning. He was alone and under great duress without any support. He lost 25 lbs. in two months, became chronically ill from the stress, could not sleep, could not focus, and could not eat. He was expected to go to class, keep up with school without any accommodations. He was not allowed to confide in anyone or speak about what was going on or he would be immediately expelled. The accuser was spreading rumors all over campus. At one point, our son was studying in a common area with a friend, when someone walked up to him and asked if he was "The Rapist". The accuser seemed to seek out our son, and actually went up to him (breaking the no contact order) and asked him "for a hug". We immediately went to security and the IX office about these occurrences, but were told there wasn't anything they could do.
These are the stories that "survivor" groups are deathly afraid of the public hearing about.
Good thing they were kept off C-SPAN. (The National Coalition for Men has a longer list of falsely accused male students, including Strange, in its testimony.)
'Congress does not truly value impartiality in these proceedings'
The Foundation for Individual Rights in Education submitted the most detailed critique of the Campus Accountability and Safety Act.
Not only does it refer consistently to accusers as "victims" – showing that "Congress does not truly value impartiality in these proceedings" – but the bill potentially violates Violence Against Women Act regulations by giving an accuser but not an accused student a "confidential advisor."
FIRE flagged the bill's "penalty provision" – a 1-percent operating budget fine per violation – as a huge inducement to colleges to rule against accused students by default:
Federal dollars are only one source of funding for institutions. So for example, if the Department of Education finds more than 15 violations at an institution that receives 15 percent of its operating budget via federal funds, the potential penalty will be greater than it is under the current system. Indeed, [the department's Office for Civil Rights] claimed to have found over 40 unique violations at the University of Montana in 2013. The penalty provision must be capped, otherwise the status quo, in which institutions are too terrified to ever contest OCR's rulings for fear of incurring a devastating penalty, will be exacerbated.
At "minimum," Congress should give both complainants and respondents (accused students) "the right to hire lawyers who could actively participate in the hearings on their behalf," make colleges "notify students of their rights at the onset of an investigation" and let them remain silent without it hurting their case, FIRE said. They should be allowed to confront "adverse witnesses" including their accuser, and require investigators to turn over "exculpatory evidence" to the accused.
Punish frats while letting off sports teams?
The National Panhellenic Conference and North-American Interfraternity Conference, which together represent nearly three-quarters of a million frat and sorority members, largely echoed FIRE's comments:
It is unfair to expect students to navigate the complex disciplinary process, particularly when a concurrent law enforcement investigation may be underway, without meaningful access to legal counsel in campus proceedings where the potential sanction imposes a life-changing sentence on the involved parties.
The groups also want "organizational due process" to be considered in the Senate bill. Notice how they bring up the allegedly lenient treatment of college sports teams:
These actions [against student organizations by colleges] are often arbitrary and capricious in nature. In just this past year, numerous fraternities and sororities were suspended across the country for allegations involving students and events where they had no direct relationship. Conversely, major sports teams in college football and basketball suffered not so much as a missed practice on the road to playoffs and March Madness even as members of those same teams were under active investigation for crimes of sexual violence.

The baseless suspensions of our organizations are antithetical to the concepts of due process, and we are particularly concerned that the suspensions will actively discourage future reports of campus sexual violence. Schools have been responding to a woman's allegation that a crime has been committed by actually suspending the largest women's leadership organizations on campus, none of which are involved in the allegations.
Their recommendations appear to mirror provisions in a competing House bill, the Safe Campus Act, that would provide more due-process protections to accused students. Indeed, the groups say they endorse both that House bill and another that differs slightly, the Fair Campus Act.
Families Advocating for Campus Equality highlighted "traditional notions of gender" applied to sexual-misconduct investigations as a problem in its testimony, while the founder of Zen Men – himself still recovering from false allegations – asked committee members to put "themselves in the shoes of one accused of sexual assault without a shred of evidence to support such a devastating charge." (FACE also submitted longer testimony.)
If you want to see this testimony in a medium better suited to elicit a public reaction, tell Chairman Lamar Alexander, R-Tenn., to convene another hearing composed solely of groups representing accused students and organizations. (I recommend flooding his office with faxes. It gets staff attention really fast.)
UPDATE: The links to testimony in this article were initially set to the wrong sharing setting. They are now viewable for anyone. 
RELATED: Due-process questions stump witnesses at Senate hearing on campus sexual assault
Like The College Fix on Facebook / Follow us on Twitter
IMAGE: Senate HELP Committee screenshot