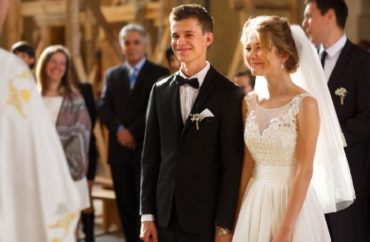 'Marital status is and has been a very important marker for happiness,' researcher wrote
Married couples are happier than "single and childless" adults, according to research from the University of Chicago and commentary from a University of Virginia sociologist.
A new paper from University of Chicago economist Sam Peltzman found that "the married population is over 30 points happier than the unmarried, and that number has hardly changed since the 1970s."
"Marital status is and has been a very important marker for happiness," Peltzman wrote. He based his academic paper on data from the General Social Survey.
"Being married is the most important differentiator with a 30-percentage point happy-unhappy gap over the unmarried," he concluded. "Conservatives are distinctly happier than liberals as are people who trust others or the Federal government," he also found.
The findings show the importance of promoting matrimony, according to Bradford Wilcox, a UVA sociologist and a director of the National Marriage Project at the public university.
"Americans who are married with children are now leading happier and more prosperous lives, on average, than men and women who are single and childless," Wilcox wrote with David Bass at Unherd.
"To fix what ails America, we need to renew marriage and familial ties, especially in poor and working-class communities where the fabric of family life is weakest," they wrote.
The pair then suggested several policies, such as fixing the tax code, that would incentivize marriage.
They wrote:
A big step forward would be to eliminate marriage penalties that keep too many parents from exchanging vows. The blame lies at the federal level, where policymakers have established tax and safety-net benefits over the last six decades that too frequently punish marriage, especially for the working class and poor. Programmes like Medicaid and the Earned Income Tax Credit, for instance, often penalise couples with kids if they marry. The Government must stop making marriage a bad financial bet for lower-income families.
"It's well past time we acknowledged that helping American men and women build meaningful and satisfying lives for themselves and their children requires a renewed emphasis on the importance of marriage," Wilcox and Bass wrote. "This should not be dependent on where they sit across the class divide."
MORE: Notre Dame researcher says schools should encourage marriage
IMAGE: IVASH Studio/Shutterstock.com
Like The College Fix on Facebook / Follow us on Twitter