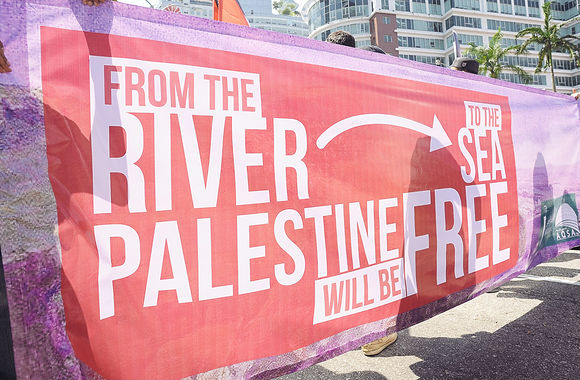 'Renders other NYU awards empty of content'
"In the past five years, SJP has resorted to intimidation tactics that have made me, my colleagues and my students unwelcome and unsafe on our own campus."
With those words to New York University President Andrew Hamilton, a distinguished alumnus renounced the award the private university had granted him six years earlier.
UCLA Prof. Judea Pearl is objecting to NYU's decision to give a President's Service Award to its Students for Justice in Palestine chapter. That decision "renders other NYU awards empty of content, and suspect of reckless selection process," he told Hamilton in a letter obtained by The Algemeiner.
Pearl is the father of Daniel Pearl, the reporter for The Wall Street Journal who was kidnapped and beheaded by terrorists in Pakistan in 2002. He runs the foundation that bears his son's name, and has also won the Turing Award for his contributions to the computer field.
1/
This sad happening at NYU unveils the power of ignorance in the electronic age. I bet my esteem colleagues at NYU do not know that their university is awarding a "president service award" to SJP, a student organization that prides itself on crushing meetings of other student https://t.co/j3wf7tbduG

— Judea Pearl (@yudapearl) April 16, 2019
The SJP chapter is controversial on campus and among alumni for "blacklisting" other campus clubs who disagree with its anti-Israel views, according to the Algemeiner.  It also introduced a boycott, divestment and sanctions resolution that was approved by the student government in December.
Two students were arrested a year ago at an SJP protest of the pro-Israel student group Realize Israel's "Rave in the Park."
The award it received is decided by student affairs staff members and a student representative. It recognizes those who have made a "significant and positive contribution" to NYU in "community service and civic engagement" or "student leadership and campus programming." The ceremony for the award is this afternoon.
The chapter quoted from the letter it received from the university, saying it has made "significant contributions to the university community in the areas of learning, leadership, and quality of student life."
It celebrated its recent designation by a founder of the BDS movement as the "student capitol [sic] of the BDS movement of the world!!!"
Realize Israel denounced NYU's decision to recognize SJP, saying it showed that NYU was "condoning violence and discrimination" against the community:
Over the past year, SJP has led a boycott of Jewish and pro-Israel organizations by 50+ NYU "student groups." Members of SJP defaced Israel's flag and physically assaulted pro-Israel students for openly celebrating their identities, and members of SJP brought forward not one, but two one-sided and factually inaccurate anti-Israel resolutions to the Student Government Assembly through a non-transparent, unbalanced, and undemocratic process. …

We also believe it is high time that the administration put an end to this endless cycle of intimidation, and we plan to voice our concerns about the systemic anti-Semitism perpetuated by anti-Israel activism that is plaguing our campus.
An alumni relations official told Pearl, the alumnus who has spurned his award, that "we will continue to defend the rights of our students and others to express their opposing views." That doesn't answer why NYU celebrated the anti-Israel work of SJP with an award.
Pearl told Hamilton that the "free speech" explanation for the SJP award was bogus:
Entrusted with the mandate of maintaining a climate of learning and mutual respect, your office should distance itself from the SJP selection and explain to the campus why such distancing is necessary. In the absence of a corrective action by your office the academic standing of this university is begging for other voices to call out the Orwellian character of [SJP's] award.
MORE: NYU student government passes BDS resolution
IMAGE: Khairul Effendi/Shutterstock
Like The College Fix on Facebook / Follow us on Twitter