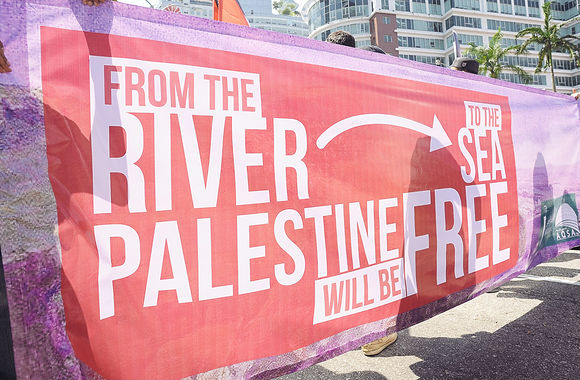 'Inspired' by BDS, but 'for the human rights of all'
It's not beating up on Israel – it's protecting the human rights of everyone, particularly "brown people."
This was how an anti-Israel divestment resolution was described before its approval at a New York University student government meeting Thursday night, interrupted by "shouts, screams and snaps," Washington Square News reports.
A slight majority of voting members supported the resolution, while 14 each voted "no" and abstained, after the session was extended four times to allow more time for debate.
They agreed to change the name and "content" of the resolution before it passed due to concerns at the meeting that it "unnecessarily targeted Israel." The version that will be considered in the University Senate is titled "Resolution on Responsible Investment at NYU: Palestine as a Case Study."
Unlike a resolution that failed the day before at Ohio State University, the NYU resolution does not call for an academic boycott of Israeli institutions, discontinuance of Israel-collected program or ejection of visiting scholars.
It's sponsored by three at-large senators, Rose Asaf, Leen Dweik and Bayan Abubakr. They represent very narrow NYU populations: "Marginalized Jewish Students, Student Activists, and Students With Mental Health Struggles"; "Middle Eastern & North African Students and Documented Noncitizen Students"; and Muslim students.
Washington Square News reports that they said the resolution was "inspired" by the boycott, divestment and sanctions movement, and "simply seeks to use Israel as a case study for how NYU can divest from those violating human rights."
Dweik said it was intended to prevent tuition from being "spent to kill brown people across the world."
Originally titled "Resolution on the Human Rights of Palestinians," the six-page resolution has more than than five pages of "Whereas" statements, all but a few of which mention Palestinians, BDS, Israel or companies that do business in Israel.
It praises BDS as "an inclusive, anti-racist, and non-violent set of tools to pursue the Palestinian human rights movement that is opposed to all forms of discrimination, including anti-Semitism and Islamophobia."
It's the natural successor to the student government's unanimous vote to divest from South African companies during apartheid, the resolution says.
New York University student government resolution on "Human Rights of Palestinians" by The College Fix on Scribd
It points out NYU's business with the targeted companies Caterpillar, General Electric and Lockheed Martin. The engineering school and Center for Urban Science + Progress identify Lockheed as a "corporate partner"; its Langone Medical Center "utilizes a General Electric gas firing engine"; and its central power plant uses "Caterpillar D399 diesel reciprocating engine generators."
The resolution uses NYU's history against it, noting that it divested from "securities issued by entities viewed as providing direct support to the Sudanese government" in 2008.
Only in the "Therefore" statements does the resolution attempt to broaden its focus beyond Israel.
It calls upon the administration to communicate to the three companies, "and any other companies complicit in human rights violations," that it won't divest from them if they ensure that "none of their products are used by the State of Israel in the violation of human rights."
NYU will "immediately divest all capital investments" from Caterpillar, General Electric and Lockheed Martin, "along with any other companies involved in the violation of Palestinian human rights and human rights globally," if they "fail to ensure the ethical use of their products."
The university must add all corporations to its "Prohibited List" that profit from abuses of Palestinians "and the continued spread of settlements declared illegal under international law."
The university endowment must apply "a screen on ethical investments that uphold human rights for all."
It includes a list of supportive student groups and individuals, including nearly three dozen NYU faculty.
At the student government meeting, sophomore Benjamin Reich ridiculed the resolution as doing the bidding of the BDS movement, "which makes him feel unsafe on campus as a member of the Jewish community," the News reports.
He asked student senators: "Were you elected to solve the Israeli-Palestinian conflict or were you elected to make sure students feel safe on campus?"
Dylan Brown, political action chair for the Black Student Union, supported the resolution because the student government "has a duty to all marginalized students on this campus to not be invested in systems of oppression."
Read the article and resolution.
MORE: Anti-Israel divestment resolution fails spectacularly at Ohio State
IMAGE: Khairul Effendi/Shutterstock
Like The College Fix on Facebook / Follow us on Twitter