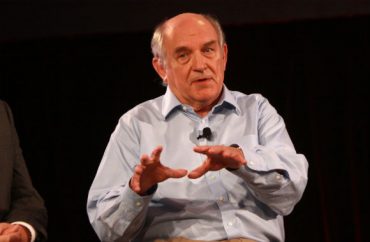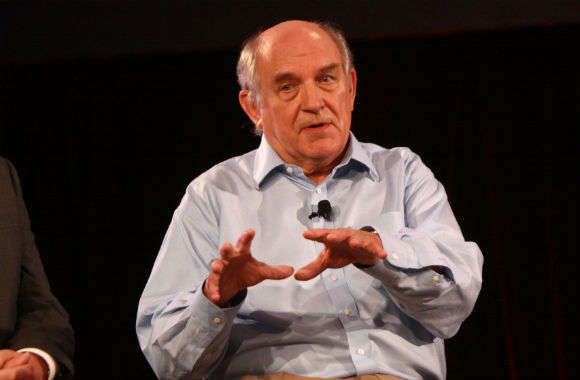 Libertarian social scientist Charles Murray, the controversial co-author of The Bell Curve, got a much friendlier reception at Duke University last night than he'd received at Middlebury College earlier this month.
It was almost too quiet.
Duke's determination to stave off disruptive protests by requiring ticketed entry into the lecture may have affected the turnout in an unexpected way.
Local newspaper Indy Week talked to students after the lecture who suspect Murray's critics reserved tickets and then didn't show up, so that those who wanted to hear him wouldn't be able to get in.
It's a tactic previously suggested by a Marquette University employee to keep conservatives from seeing Ben Shapiro's talk on campus last month:
A group of students who spoke with the INDY after the discussion were expecting to see a protest; they'd heard murmurs around campus about one. They came to the talk out of curiosity, after hearing about the Middlebury episode and wondering whether Murray and his views were worth all the fuss. They said most discussions at their school are open-door, whereas for Tuesday's event, they had to go to one campus location to request a ticket and another to pick it up.

Tickets were gone by one-thirty Tuesday afternoon, said Ali Goldsmith, who studies psychology. She and public policy student Hannah Gropper wondered whether Murray's opponents had snapped up tickets in protest.
MORE: Charles Murray forced to flee Middlebury College by mixed mob
According to Indy, "About sixty students and faculty members" were in attendance and "more than a dozen guards" were stationed outside the building and the lecture hall.
The only sign of protest? Four peaceful anarchists handing out tiny flyers across the street. The Chronicle reported they had "vuvuzelas and air horns" but they couldn't be heard in Murray's venue.
Like most attendees, the four anarchists protesting @charlesmurray outside didn't want to go on the record, but did give me this leaflet pic.twitter.com/vVfcMPAYNd

— Frances Beroset (@francesberoset) March 21, 2017
The Chronicle had a slightly different turnout estimate than Indy. "Student IDs and tickets were checked three times before the event," and "approximately 50 people" attended out of 75 tickets available on the event's Facebook page, mostly students, it said.
As with previous campus lectures, Murray focused on his book Coming Apart, which analyzes the decline of the white working class:
"I'm pleased to see you all sitting out there, facing me," Murray began, alluding to the Middlebury incident in which students stood with their backs to Murray before eventually attacking his car as he left campus. …

Murray took several friendly questions from the audience following the talk about his policy positions and advice for conservative students on campus.

To the latter, Murray replied, "Don't talk politics. I'm serious. I have great friends from the left…and we get along great, as long as we don't talk politics, and as long as I explicitly say when politics come up, 'There's no point in talking about this. I'm never going to change your mind.'"
MORE: Marquette employee caught trying to block conservatives from Ben Shapiro
It was a twist on the student response last time Murray spoke at Duke, four years ago, when leftist student activists attended the lecture and then stood up and walked out en masse to protest Murray's views.
Unsurprisingly, the Chronicle editorial board criticized Murray's campus sponsors, the Duke chapter of the American Enterprise Institute and Duke College Republicans, as well as the administration for giving Murray a "platform":
Bringing a figure that has been documented as a white nationalist to Duke so that he can speak in a closed, ticketed event is not in line with the principles of free speech. …

The invitation extended to him is another tacit endorsement of "The Bell Curve" that fails to recognize that some theories and research remain on the fringes of academia for good reason.

Ultimately, Murray and his outdated, white supremacist ideals—or certainly his continued adherence to "The Bell Curve"—have no place on a campus that prides itself on equity, academic rigor, and diversity. As at Middlebury, it was a poorly thought-out decision for the platform of a university to be turned over even for an evening to a thinker like Murray. Opposition to Murray is not about attacking free speech so much as it is considering an academic's work and evaluating their merits as fully as possible.
Read the Indy Week and Chronicle reports and Chronicle editorial.
MORE: Leftist student activists at Duke walk out on Charles Murray lecture
Like The College Fix on Facebook / Follow us on Twitter
IMAGE: Gage Skidmore/Flickr