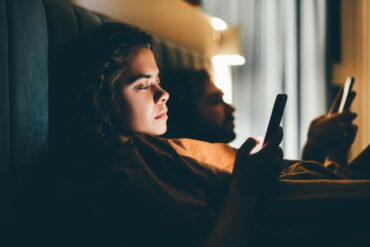 Nearly half of married adults under 35 say their spouse is on phone too often
Married couples who reduce their time on smartphones have more sex and have lower divorce chances than those who are too enmeshed in their digital devices according to a Brigham Young University think tank.
"More than one-third of married Americans (37%) say that their spouse is often on the phone or some kind of screen when they would prefer to talk or do something together as a couple," according to a study from BYU's Wheatley Institute and the Institute of Family The two groups surveyed 2,000 married couples ages 18 to 55.
Sociologist Wendy Wang, director of research at the Institute, coauthored the study with executive director Michael Toscano.
Less sex was found in couples distracted by phones, as well as fewer date nights.
"Fewer than half of these couples (44%) have sex once a week or more often, and about 1 in 5 of these couples (23%) report that either they haven't had sex at all in the past 12 months (11%) or only once or twice (12%)," according to the study. "In contrast, the couples with greater control over their phones are more likely to report more frequent sex."
A social commentator and statistician called the improvement of "human relations" a "complex challenge," in emailed comments to The College Fix.
"I don't know which efforts will succeed and which ones will fail," Professor Aaron Brown told The Fix. He regularly comments on social science studies for Reason. "But I guarantee all the people saying 'society must' will be either ineffective or counterproductive."
"The improvements will come from people who say, 'try this,'" the New York University and University of California San Diego professor said.
The Fix reached out to Jean Twenge, a professor of psychology at San Diego State University who has studied smartphone use in young people and is cited in the report. She was unavailable for comment.
Younger couples also expressed more discontent with their spouse's digital diet, according to the July 26 report.
"A full 44% of married adults under age 35 say that their spouse is on the phone too much, compared with 34% of those aged 35-55," the report stated.
Whether  the spouses had a college degree also showed an impact on phone distractions, with greater issues in couples without a college degree than those who were college-educated.
Liberals and conservative couples were equally affected by their spouses screen time and worries about divorce were higher in those who struggled to control their phone use.
"About a quarter of couples who lack control over their phones (26%) say their marriages may end in a divorce in the near or distant future," according to the study.
Meanwhile, "[a]mong couples without a phone issue, only 7% say they are pessimistic about their marriage."
The study found couples who were distracted by phones in their marriage were 70 percent less likely to be happy with their marriage than other couples who did not experience issues with phone usage.
Lower-income couples reported greater phone distraction problems, "with 44% indicating that their spouse is distracted by phones while they desire quality time together, compared with 31% of higher-income couples," according to the study.
Links have previously been found between divorce and income level beyond cell phone usage alone – as income goes up, the rate of divorce goes from 40 percent to 30 percent, according to an article last week in Forbes.
The Fix also reached out to Utah Senator Mike McKell, who has proposed bills to increase restrictions on social media companies, but he declined to comment.
MORE: Psychology professors warn: Earlier smartphone use linked to worse adult mental health
IMAGE: Mariia Korneeva
Like The College Fix on Facebook / Follow us on Twitter