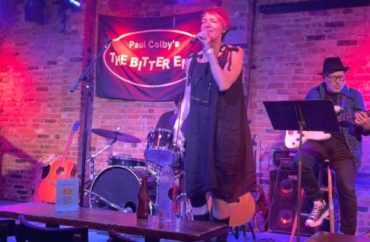 Jodi Shaw, who outed Smith College for its 'hostile work environment,' earns 'Hero of Intellectual Freedom Award' in Manhattan on Wednesday night
MANHATTAN — Bob Dylan. Stevie Wonder. Joni Mitchell. And now — Jodi Shaw.
Shaw is the Smith College whistleblower who famously resigned from the elite institution in January 2021 after producing a series of videos that exposed the school's divisive racial ideology.
She quit in part due to an incident in 2018 when a supervisor told Shaw she could not perform a rap song to students because as "a white staff member [it] could easily be perceived as insensitive or cultural appropriation."
But on Wednesday night at The Bitter End, the famous Greenwich Village rock club where Bob Dylan, Stevie Wonder, Joni Mitchell and other legends of music and comedy got their start, Shaw not only performed the rap that Smith canceled, but also earned the "Hero of Intellectual Freedom Award" from the American Council of Trustees and Alumni.
ACTA President Michael Poliakoff described Shaw as someone who "risked their status, friends, and often professional opportunities in order to write and say what they believe."
"The stories of the heroes of intellectual freedom need to be well known, to inspire the timid to action, and to shame the guardians of the status quo," he said.
Shaw is an alumna of Smith who worked as a student support coordinator. She made headlines several years ago after she accused the college in YouTube videos of creating a "hostile work environment" for her and others because they were white and resisted the imposition of racial stereotypes and divisive ideology.
"I ask that Smith College stop reducing my personhood to a racial category," she said in one of her videos. "I believe my value lies in the quality of my work, the goodness of my deeds, the essence of my character, and the fullness of my heart, not my skin color."
According to Shaw, there was an "ever-present terror" at Smith "that any unverified student allegation of racism, or any other '-ism,' has the power to crush our reputations, ruin our livelihood, and even endanger the physical safety of ourselves or our family members."
Shaw was referring in part to a July 2018 incident in which a white janitor saw a black Smith student, Oumou Kanoute, reclining in a student lounge that had been closed to students for the summer, according to The New York Times.
The staffer, who had been advised to call campus police if he thought he saw someone who didn't belong, did as he was told. A security officer drove over, recognized Kanoute and had a genial conversation in which he apologized for bothering her, according to The Times. In response, the student took to Facebook to state that "some people question my being at Smith, and my existence overall as a woman of color."
The college hired a law firm to investigate the incident, which released a 35-page report that found no evidence of discrimination.
Nonetheless, the campus set in motion diversity programs that "created a very racially tense environment," Shaw told The College Fix in November 2020.
During that fall semester, diversity training "went into overdrive," she said. After abstaining from discussing her race at a faculty retreat, she was accused by the facilitator of "white fragility."
As 'antiracist' indoctrination continued to accelerate, Shaw felt forced to resign
Shaw quit her job at Smith in February 2021. In her resignation letter, Shaw wrote that "the racially hostile environment that the college has subjected me to for the past two and a half years has left me physically and mentally debilitated."
She continued:
Every day, I watch my colleagues manage student conflict through the lens of race, projecting rigid assumptions and stereotypes on students, thereby reducing them to the color of their skin. I am asked to do the same, as well as to support a curriculum for students that teaches them to project those same stereotypes and assumptions onto themselves and others. I believe such a curriculum is dehumanizing, prevents authentic connection, and undermines the moral agency of young people who are just beginning to find their way in the world.

Under the guise of racial progress, Smith College has created a racially hostile environment in which individual acts of discrimination and hostility flourish. In this environment, people's worth as human beings, and the degree to which they deserve to be treated with dignity and respect, is determined by the color of their skin. It is an environment in which dissenting from the new critical race orthodoxy — or even failing to swear fealty to it like some kind of McCarthy-era loyalty oath — is grounds for public humiliation and professional retaliation…

Although I have spoken to many staff and faculty at the college who are deeply troubled by all of this, they are too terrified to speak out about it. This illustrates the deeply hostile and fearful culture that pervades Smith College.
Shaw: 'I couldn't live with the psychic pain of lying anymore, and pretending'
In an exclusive interview after her performance Wednesday, Shaw told The College Fix about her motivation for speaking out against harmful untruths, and her advice for others who might follow her lead.
"Certainly people need support if they're being persecuted," she said. "But more support is needed before the moment of standing up and speaking out."
"To those people thinking about this, who feel like something's wrong and want to say something…I think the most important thing is to find one other person, preferably in the same environment as you are, your workplace or school, wherever it is that, and start talking to that person," she said.
"It's very bonding. And just one other person can make a difference," Shaw said.
"This ideology is really forcing our hands, that's for sure. We're seeing who the free people are," she said.
Social justice, in her experience, has "never been explained."
"These terms are never defined," Shaw said. "There's never a hoped-for outcome, that the institution says, 'this is what we hope to achieve, and here are the measures we're going to take to achieve it.' That's normal! That's what you do in education. That's completely absent in this discussion. It's just 'social justice.'"
"And you're afraid to ask," she added, because "that might put a spotlight on you," and people will think you are racist.
When asked what motivated her to speak out when she did, Shaw said that she has a low tolerance for insincerity and lies.
"I just have a hard time, and I think other people who have done this are similar, with inauthentic situations," Shaw said.
"It's fake. It's a bunch of people pretending that something's true, and going along with it. I was OK with it for a while, but it got worse and worse, and I heard about things happening to my colleagues that were really unjust and abusive."
She also said that her two sons inspired her to speak the truth.
"I think about my children a lot, and I think about the world that they're poised to inhabit should this thing continue to run amok," she said. "People call it all kinds of things: woke, social justice ideology, critical theory."
"I couldn't live with the psychic pain of lying anymore, and pretending, but I also didn't want my kids to see me living like that," she said.
"I wanted them to see me, as painful as it was going to be, telling the truth, because I want them to tell the truth."
MORE: Read Jodi Shaw's resignation letter from Smith College
IMAGE: Margaret Kelly for The College Fix
Like The College Fix on Facebook / Follow us on Twitter