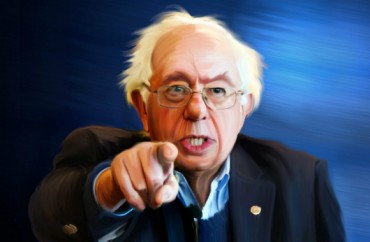 But conservatives and Republicans are wary of capitalism, too
More than half of millennials recently surveyed by the Harvard Institute of Politics reject both capitalism and socialism, according to the poll's results.
Perhaps surprisingly, socialism is even less popular than capitalism, with 59 percent rejecting the ideology embraced by Democratic presidential candidate Bernie Sanders, the favorite among millennials.
Just 51 percent of the 18- to 29-year-olds surveyed said they do not support capitalism.
Furthermore, Harvard student Jeff Metzger noted in Monday's teleconference with reporters that distrust of capitalism breaks ideological bounds and shows an "alienation of the status quo."
He said this is highlighted by the finding that even 49 percent of conservatives and 54 percent of Republicans polled do not support capitalism.
In a follow-up survey of 18- to 34-year-olds with a different sample, when the two economic systems went head-to-head, capitalism narrowly prevailed 38 percent to 33 percent.
John Della Volpe, director of polling, said in a teleconference with reporters Monday that these results were not surprising, given the poll's other findings on how millennials feel about the American political system.
Only 15 percent believe the U.S. is headed in the right direction, a decrease of eight percentage points from last year's spring poll.
Additionally, 48 percent of those surveyed agreed with the idea that "politics today are no longer able to meet the challenges our country is facing." Only 16 percent disagreed with the statement.
Della Volpe said the results mirror those found in the institute's fall 2015 poll, which found a split on whether the "American dream" still existed, as well as large distrust in the criminal justice system and political institutions.
"Sadly, we can report that little has changed on these two fronts," Della Volpe said.
Millennials run away from the GOP as Trump rises
The poll also found a dramatic increase in support to keep a Democrat in the White House. Fifty-five percent said they prefer the Democrats to win in November, an increase of 15 percentage points in the past year.
The poll indicates that the rise of Donald Trump is a major factor in those results.
Trump has a 74 percent unfavorable rating among those polled, and would lose to Hillary Clinton by 36 points among likely voters, a subset of the 18-to-29 year-old sample, if the election were held today.
The results show Trump running eight points lower than a "generic" Republican candidate. Della Volpe said the poll highlights that Clinton is doing better when comes to "coalescing" younger members of her party.
The poll surveyed 3,183 18- to 29-year-old U.S. citizens, with a margin of error of plus or minus 2.4 percentage points and a 95 percent confidence level. It was conducted between March 18 and April 3.
Like The College Fix on Facebook / Follow us on Twitter
IMAGE: DonkeyHotey/Flickr