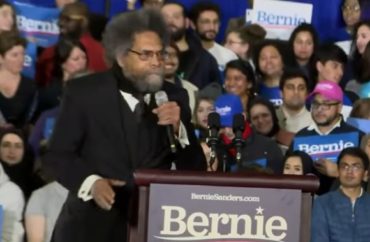 UPDATED
Just part of being a 'gangster' the professor explains
Socialist professor and presidential candidate Cornel West wants "massive investments" including "free college tuition" and "Medicare for All" as part of his presidential campaign.
Just don't expect him to chip in on the bill.
According to the Daily Beast, and confirmed by West, the Union Theological Seminary professor owes over half a million dollars in taxes.
The Green Party candidate has "more than $500,000 in outstanding federal tax liens lodged against him in two states" dating back to 2005, according to the liberal news outlet.
He explained, when asked on Monday by commentator Charlamagne Tha God, that not paying taxes is part of his "gangster proclivities."
"They're not wasting no time attacking you because now they're saying you owe a half a million dollars in taxes and they're trying to say it's hypocrisy on your part," the commentator said.
"Because you spent so much of your life advocating for higher taxes on the wealthy. I'm like 'I ain't never heard any of this about Dr. Cornel West before but now all of a sudden he's running for president,'" he said. "Everything's coming out the woodwork," another host said.
"Absolutely, absolutely, and the thing is, I mean, I told you before, I got so much gangster in me, I was a gangster before I met Jesus. I ain't nothing but a reformed sinner with gangster proclivities," West said on the show.
"Partly it's because I do like to give to loved ones and others too," he said. "But I take responsibility for it too. But it don't make no difference to me."
"They want to use it as a distraction. Why don't you keep the focus on the suffering that I'm highlighting?" he told Charlamagne Tha God recently.
Instead of focusing on West's legal obligation to pay all his taxes, the obligation that all Americans share, the media should instead focus on "the suffering" people in Appalachia, Chicago and Harlem.
"This is just a matter of trying to hit you below the belt and keep the distraction," he added."
He appeared to deny a report from the Daily Beast that he also owes $45,000 in child support, saying the outlet was "lying about his kids."
West first announced he would run for president on the People's Party ticket, but that organization only has ballot access in Florida. He then switched to the Green Party.
While West is a socialist leftist professor, he has a good relationship with prominent conservatives, appeared throughout the years on Sean Hannity's show on Fox News. He also has been supportive of teaching the classics and is on the board of academic advisors for the Classical Learning Test, an alternative to the SAT and ACT.
Editor's note: The article mistakenly identified West as a professor at Union College. He teaches at Union Theological Seminary.
MORE: Stanford, Georgetown team up on 'governance' of Internet
IMAGE: The Hill/YouTube
Like The College Fix on Facebook / Follow us on Twitter