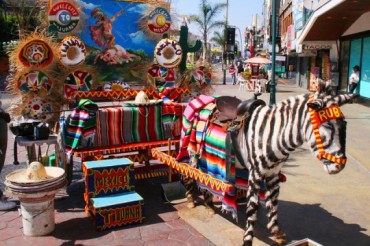 Sombreros, ponchos and nachos have been deemed "culturally insensitive" at Cornell University.
A Cinco de Mayo-themed marketing campaign last week to tout the university's Oct. 5 football game and designed to drum up a festive spirit among students instead apparently prompted angst among "several student groups and Latino community members" who deemed the promo "offensive, culturally insensitive and inappropriate" and forced the school's athletics department to grovel for forgiveness, the Cornell Daily Sun reports.
Apparently one of the most insulting parts of "Ithaca: Cinco de Octubre," according to one student quoted in The Sun, was a photo booth designed to encourage students to dress up.
"I was disappointed that this theme was stereotyping the Mexican culture of which I identify," student Carmen Martinez told the campus newspaper. "I was especially troubled by the 'photobooth' activity, especially after one of my colleagues pointed out that the winner [is the person] with the 'best costume,' implying the best Mexican costume was going to win a prize. What better way to invite stereotyping of our culture?"
Even campus administrators got in on the action to chide the campaign, telling The Sun the incident "is an important reminder about how we must function as an increasingly diverse community. … Using stereotypes and other people's cultures to market events is wrong."
Jeff Hall, associate director of sales and marketing for Cornell Athletics, explained to The Sun his division was simply trying to "develop a festive atmosphere at the football game," that his office had brainstormed a bunch of themes for various football games and it was just one of the ideas staff developed for a game that fell on Oct. 5.
"We [tried] to get the crowd rowdy, have free nachos, popcorn, etc. … But the sombreros or ponchos … it really got to the point where it was a little bit offensive to Latino heritage and culture [and] might be promoting them in a different light," Hall told The Sun. "This has been a learning opportunity for me and for our marketing group, and we are committed to working with our community so this does not occur again."
It's unclear if Cornell students would have forgiven the campaign if it was meant to drum up support for an athletic event on May 5. At Northwestern University in May, for example, some student leaders admonished students not to eat tacos or drink tequila on Cinco de Mayo. However, that effort prompted a backlash from some students from Mexico who said they were offended by the notion, that the request didn't represent their beliefs.
IMAGE: Photographer Glen/Flickr
CLICK HERE to Like The College Fix on Facebook / TWITTER: @CollegeFix