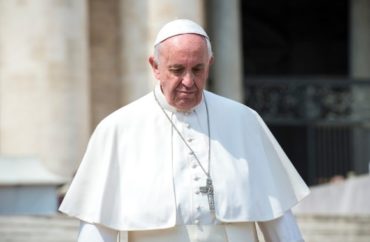 ANALYSIS: University of San Diego said it must cover abortions in health plans – but other Catholic universities have found a way around the issue
At least three Catholic universities in California cover abortion in their student health plans, according to a College Fix investigation. Some Catholic universities in the state have found ways to avoid covering the deliberate destruction of human life.
The Fix discovered two schools, the University of San Francisco and Loyola Marymount University, that help students obtain abortions through their health plans for the 2023-24 school year.
Last month, The Fix reported on the University of San Diego's inclusion of abortion in its student health plan.
The Catholic Church teaches the killing of an unborn baby is "intrinsically evil," and Pope Francis and a long line of his predecessors consistently have spoken out against abortion. Pope Francis once compared it to "hiring a hitman."
A recent court settlement involving Protestant churches in California potentially opened the doors for Catholic universities to opt out of a state mandate that requires health insurance plans to include coverage for elective abortions.
However, none of the three universities answered questions from The Fix about whether they attempted to request a waiver. The California Department of Managed Health Care also did not respond to a request from The Fix asking if any of the universities requested a waiver.
The College Fix contacted USF and Loyola twice in the past two weeks and asked why they cover abortion and if they requested a waiver. Neither responded to emailed requests for comment.
A prior Fix investigation in 2021 found USF covered abortion, and the diocese, run by conservative Archbishop Salvatore Cordileone, declined to comment. A year later, Cordileone asked all his churches to deny Communion to Congresswoman Nancy Pelosi, who represents San Francisco, because of her persistent support for abortion.
Previously, a University of San Diego media relations spokesperson told The Fix the school covers abortion because it is required to by state and federal regulations. It did not respond to a question asking if USD planned to seek a waiver.
As The Fix reported in July, several Protestant churches challenged the California insurance mandate and won a legal settlement in May that exempts them from covering elective abortions.
Their lawyer, Jeremiah Galus, senior counsel with Alliance Defending Freedom, said the resolution represented a major victory for all religious organizations in California.
"The government can't force a church or any other religious employer to violate their faith and conscience by participating in funding abortion," Galus said in a statement in May.
The California Department of Managed Health Care reviews exemptions for religious employers. In July, a DMHC spokesman told the Times of San Diego that the University of San Diego did not request an exemption.
MORE: Transgender surgeries nearly tripled in 3 years: study
Spokesman Kevin Durawa said employers should contact the department if they believe "they fall under a religious exemption under the law."
However, a USD media relations spokesperson told the newspaper the university "does not qualify as a religious employer under the cited statute. The University of San Diego is a religiously affiliated university that is not exempt from certain state and federal laws."
The Catholic University of America, which is subject to the same federal laws as USD, does not provide for abortion in its student health plans.
The Diocese of San Diego also declined to comment to The Fix in July on the actions of the Catholic university in its jurisdiction.
External Media and Community Relations Director Kevin Eckery said, "this is something for USD to comment on," and redirected the questions to the university's press office.
His comments appear to be in conflict with the Code of Canon Law, which governs the Catholic Church. Canon 810 specifies bishops "have the duty and right of being watchful so that the principles of Catholic doctrine are observed faithfully in [Catholic] universities."
Some Catholic universities find a way to get around the problem
Other universities do not clearly provide for abortion in their health plans or avoid the issue altogether by not offering plans or self-insuring.
The Fix investigation found Mount Saint Mary's University in Los Angeles and Santa Clara University no longer cover abortions in their student health plans. Santa Clara is not considered a "religious employer" under the law but does not cover abortions, according to the Catholic News Agency.
The Mount St. Mary's plan formerly covered 80 percent of the cost for an abortion in its 2019-20 policy and 2021-22 policy, but the 2023-24 policy through Aetna does not include abortion coverage. The Fix reached out to the university to confirm it does not cover abortion. The university has yet to respond to the Aug. 24 email.
At Santa Clara University, the summary of benefits for the 2023-24 student plan from Aetna does not include abortion. However, the student health insurance policy for 2022-23 through BlueCross listed abortion coverage.
A spokesman for Santa Clara did not respond to multiple requests for comment.
Two other Catholic higher education institutions do not appear to offer student health insurance plans at all – Notre Dame de Namur University and John Paul the Great University. Thomas Aquinas College collects its own premiums and administers its own health plan, which makes it exempt from state mandates regarding health insurance, according to a university spokesman.
Chris Weinkopf, the executive director of college relations at Thomas Aquinas, told The Fix in an email that the college does not cover abortions under its health plans for faculty and their family members either – or "any other coverage that violates Catholic moral teaching."
The school is far smaller than the larger universities that cover abortions, with just a few hundred students split between two campuses in California and Massachusetts.
MORE: Pro-life group notches victory after three denials
IMAGE: AM113/Shutterstock.com
Like The College Fix on Facebook / Follow us on Twitter