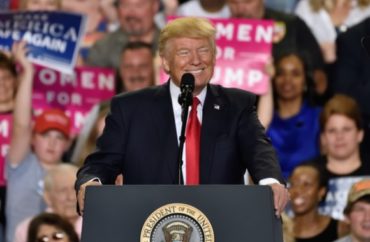 'Nothing new is happening here'
Is the Trump administration so radical that many law students will pass up clerkships with federal judges nominated by the president? Or are these law students just so-called snowflakes who let their political disagreements sideline a valuable opportunity in their legal careers?
In the wake of a Boston Globe report that an unusually large number of Harvard Law School students were passing up federal clerkships, right-of-center law professors gave a third explanation: supply versus demand.
They include Harvard Law's own Jack Goldsmith, a former official in the George W. Bush administration, who published a 14-part tweet thread calling many of the report's assertions "misleading or wrong."
Josh Blackman, a professor at the South Texas College of Law, echoed Goldsmith's criticisms. "Students of all political stripes have long focused their clerkship applications on certain judges," he told The College Fix. "Nothing new is happening here."
With a plethora of newly appointed judges, conservative students have their pick of the litter in deciding whom they clerk for, some of them told The Fix.
Students already sorting themselves explicitly into right and left groups
Clerking for a judge with a different judicial philosophy than the law student is not historically unusual, but the Globe article suggested this might be changing in the age of Trump.
Third-year law student Emma Janger cited the cultural views of recent appointees on abortion and LGBT rights as reasons that law students may not want to clerk for them. Other appointees were rated "not qualified" by the increasingly politicized American Bar Association.
"Five or 10 years ago, people would be in a rush to apply," Janger said. Constitutional law professor Charles Fried, who served in the Reagan administration, also fretted that "it will drive things to further extremes" if only Trump voters are willing to clerk for Trump-nominated judges.
His Harvard colleague Goldsmith threw cold water on the panic.
"[I]t is not at all unusual for progressive students to take a pass on the new conservative [9th U.S. Circuit Court of Appeals] Trump judges," who received no Harvard applications after their confirmations, Goldsmith tweeted. "In fact it is the norm."
MORE: Harvard Law students ask for right-of-center legal clinics
Over the past 10 to 15 years, judges have been selecting students more in line with their ideological views, he wrote. At the same time, students "sorted themselves more and more explicitly into left and right identifications" by joining the left-wing American Constitution Society or the right-minded Federalist Society.
The result is that it has become "easier for progressive judges to identify and hire progressive students, and vice versa."
Goldsmith noted that conservative law students didn't apply to the newly confirmed 9th Circuit judges either, even though that circuit's clerkships are considered particularly prestigious. He speculated that's because almost all of them who want clerkships already have "a great one" lined up.
The "relatively few conservative students" at Harvard Law have "a large oversupply" of opportunities with a glut of Trump-confirmed judges, and they are "very keen to work for Trump judges," Goldsmith concluded. He declined an interview with The Fix.
"I think this problem is largely overblown," Blackman of the South Texas College of Law told The Fix. "Most students at Harvard Law School who want to clerk secure positions well before graduation," so it's not surprising that "there may be a shortage of students who apply to recently-confirmed judges."
5/ This sorting has grown more intense in the 15 years I've been at Harvard. FWIW, I hate this trend. It forces students to declare ideologies early when in fact they might have moderate, mixed, or nuanced ideological views, and it is bad for many other reasons as well.

— Jack Goldsmith (@jacklgoldsmith) January 10, 2020
'Tremendous time to be a conservative law student'
Eli Nachmany and Jacob Richards, two first-year Harvard Law students who are pressing the school to develop right-leaning legal clinics, also told The Fix this concern was overblown.
Nachmany cautioned against paying too much attention to the "group of students that doesn't want to work for the amazing judges whom President Trump has appointed." Richards said a "small segment of the student body saw this as an opening to criticize" the new appointees.
Yet neither has criticisms for peers who make clerkship application decisions based on ideology. "If someone feels like she or he couldn't faithfully serve a judge as a clerk because of an ideological disagreement, of course that person shouldn't apply to chambers," Nachmany said.
"Most of us know that clerking is valuable, but choosing the right fit in a judge is a highly personal matter," Richards said. Students don't have to apply to judges who they believe "would be a poor fit for them, personally or ideologically."
Progressive students refusing to apply to clerk for conservative judges did not surprise Jack Kill, president of the University of Texas student chapter of the Federalist Society.
"As a conservative student, I would only really be interested in clerking for a judge who holds similar values," he told The Fix. "As such, I can understand more left-leaning students to share similar feelings and interests in clerking for judges who share their ideology."
Kill did have some strong thoughts on the students who decided not to apply.
"I think it's a stretch to claim that these students are exercising their privilege in a righteous manner to stand up for themselves and others by denying themselves an opportunity that is afforded to so few," he said:
Judges are looking for highly-qualified, intelligent individuals from top law schools. If you fit that description and are at a top law school such as Harvard, it seems foolish to deny yourself the opportunity to clerk, even if it means potentially working for a judge with whom you do not see eye to eye with on all issues.
As for Kill, he can't pass up "the opportunity to gain experience, work for and develop a relationship with a brilliant jurist" and burnish his resume.
Nachmany isn't feeling sorry for progressive peers who pass up the opportunity. "We cannot take for granted what a tremendous time it is to be a conservative law student," he said. "I am keenly looking forward to the impact that President Trump's remaking of the federal judiciary will have on our country for years to come."
MORE: Conservative, libertarian law profs demand more balanced faculties
IMAGE: Evan El-Amin/Shutterstock
Like The College Fix on Facebook / Follow us on Twitter