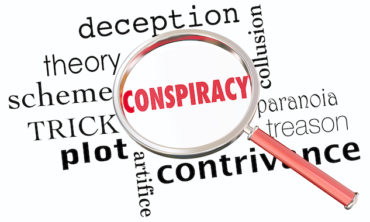 As with any situation that has a significant impact on our country and the world, inevitably there will pop up those who dabble in conspiracy theories.
One of those related to the coronavirus involves Harvard University chemistry professor Charles Lieber, who allegedly worked for the Chinese government at, of all places, Wuhan University of Technology.
By law, Lieber was supposed to have disclosed this information. But according to federal prosecutors, he told Harvard "to falsely tell the National Institutes of Health […] that he'd had 'no formal affiliation' with WUT after 2012."
The Harvard Crimson recently asked professors about social media posts linking Lieber to the creation of the COVID-19 virus, many of which have since gone viral.
The paper notes that 25 "public health scientists and medical professionals" signed on to a letter published in the medical journal The Lancet which "strongly condemns" claims that the virus was "artificially constructed." The evidence, they say, "overwhelmingly concludes" COVID-19 began naturally.
Nevertheless, "small kernels of truth," a paucity of facts, the media, and politicians trying to score points all can result in conspiracies.
Some of the professors the Crimson quoted in the article laid blame for COVID conspiracies on right-of-center politicians and media personalities:
Joshua Hart, an associate professor of psychology at Union College who has studied what leads people to believe in conspiracy theories, said President Donald Trump's dislike of China has fueled the theory by making it a partisan matter.

"The allure of a conspiracy theory is that it points to a kind of tractable source or culprit for the problem so that you can wrap your head around the idea of identifying the perpetrators and stopping them," Hart said. ..

[University of Miami Associate Professor of Political Science Joseph] Uscinski cited a claim made by U.S. Senator Thomas B. "Tom" Cotton '99 (R-Ark.) on FOX News in February that the virus could have been manufactured in a Wuhan lab, as well as claims by Trump and radio host Rush H. Limbaugh that the effects of the virus are being exaggerated.

"When we poll on this, we find that Republicans are more likely to believe in some of these theories than Democrats, and it's likely because Republican leaders and conservative media personalities are pushing these theories," Uscinski said.
But Uscinski himself is engaging in a conspiracy theory of sorts: Senator Cotton did not originally suggest the virus might have been "manufactured" in a Wuhan laboratory. He said it may have "originated there."
The media extrapolated Cotton's words to conspiracy levels. He exact words were "We also know that just a few miles away from that food market is China's only biosafety level 4 super laboratory that researches human infectious diseases."
The Washington Post was but one outlet which engaged in this nonsense. Cotton only mentioned the "manufactured" possibility in a rebuttal to the Post. In fact, the Post piece concedes "[…] Cotton acknowledged there is no evidence that the disease originated at the lab." But the fact "he suggested it's necessary to ask Chinese authorities about the possibility" allegedly "fann[ed] the embers of a conspiracy theory that has been repeatedly debunked by experts."
And guess what is now all over the news? "Sources believe coronavirus originated in Wuhan lab as part of China's efforts to compete with US."
How about that.
Of note, too, is Professor Hart's claim in the Crimson regarding the conspiracy that the 9/11 attacks were an "inside job." He said it is "comforting to some because it meant Americans could 'police ourselves.'" Perhaps this is the excuse for over 50 percent of Democrats (even five years after the attacks) who believe the federal government either assisted in the 9/11 attacks or knew in advance and chose to ignore it: It gives them solace that they could bring George W. Bush and his administration "to justice."
MORE: Feds call Harvard department chair an undercover Chinese agent
MORE: Profs want feds to muzzle 'conspiracy' of deception about climate change
IMAGE: iQoncept / Shutterstock.com
Like The College Fix on Facebook / Follow us on Twitter