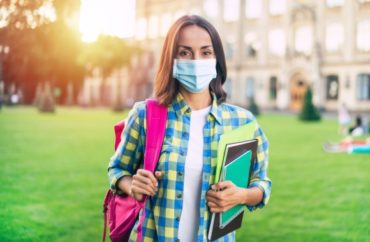 Colleges and universities announce spring 2021 semester plans as COVID still looms
As the spring 2021 college semester approaches, many universities are making plans to best serve their students during the COVID-19 pandemic.
Some universities will allow all students to return to campus under strict guidelines.
At Princeton University, for example, officials announced in late November that all undergrads may return to campus for the spring semester. However, "most instruction will remain online even for those undergraduates who reside on or proximate to campus," the statement adds.
At the University of Texas at Austin, located in a state considered more relaxed in its COVID policies, its officials note online that the "plan is to structure the spring 2021 semester in much the same way as we have the current semester. There will be robust online course offerings, hybrid learning options and some purely in-person classes."
Meanwhile, all 23 campuses in the California State University system remain almost entirely online for the spring semester.
"CSU remains steadfast in its commitment to ensuring the health and safety of all members of its 23 campus communities throughout California. This is why CSU necessarily is conducting the current 2020-21 academic year primarily in the virtual space," its officials state online.
But the CSU system has already announced it will return to in-person learning for fall 2021.
A Dec. 10 article in Inside Higher Ed reports that "while most institutions are staying the course with what they did in the fall, some that played this semester safe are planning to expand in-person options for students in the spring."
Smith College, in Massachusetts, will begin to offer a hybrid class system this spring, in which students attend class in-person for part of the week and online for the remaining days.
In an email to The College Fix, Stacey Schmiedel, a spokesperson for the women's college, said that "the majority of spring 2021 classes will be delivered remotely to enable student learning from any location."
Still, a group of classes referred to as "enhanced remote" will include in-person elements, and an even smaller percentage of classes will be completely in-person instruction, she said.
Clark Atlanta University in Georgia will also change its plans this coming spring. The university announced it will bring freshmen, seniors, transfer students, and some athletic teams on campus, while the remainder of the students will continue to attend classes virtually.
In a letter to parents and students, college leaders noted that they would "ideally prefer to return all students to campus," but will be unable to in order to implement and follow health guidelines.
After a failed attempt to hold in-person classes this fall, the University of North Carolina at Chapel Hill will allow students to return to classes this spring.
The university plans to offer single occupancy rooms and require regular COVID testing. It will also offer many different learning types in order to accommodate the needs of students, including in-person and online formats, according to its statement.
Georgetown University will allow undergraduate seniors back on campus and grant on-campus living exceptions for other students without a stable place to live. All classes will be offered virtually but some seniors may be able to choose some hybrid format classes.
Some universities are even scaling back in-person opportunities.
At the University of Michigan, it plans to decrease campus housing and move to hold 90 percent of classes online, as well as require weekly mandatory testing for on-campus students. The Michigan Daily cites protests on the college's handling of the pandemic, outbreaks, and county orders for the change in Michigan's plans.
MORE: Purdue offered on-campus learning and had no major problems with COVID
IMAGE: My Ocean Production / Shutterstock
Like The College Fix on Facebook / Follow us on Twitter