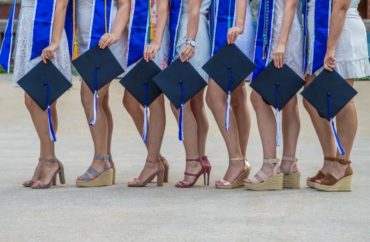 One counselor tells young women to clean up their social media feeds, charges up to $4,000
Sorority admission at some colleges and universities has become increasingly selective, and consultants charging thousands of dollars have stepped in to help.
Getting in "has become nearly as competitive as acceptance to top universities," The Wall Street Journal reported Monday.
Now many sorority "pledges," or applicants, must write essays, submit their GPAs and describe their high school volunteering and sports experience, according to the paper.
"Women submit application packets with as many as 30 letters of recommendation," according to Stacia Damron, the owner of the Texas consultancy Hiking in High Heels and one of several sorority admissions counselors interviewed by the paper.
Damron tells applicants to carefully curate their social media feeds, removing images of provocative outfits and boozy parties and publishing many posts "about family, friends, hobbies and volunteer work."
Damron's services cost $4,000 for on-call consulting at the busiest time of year, the Journal reported.
Young people over-accustomed to social media and texting need to learn how to get to know their potential sisters face-to-face, Leighton Newberry, who owns Recruitment Ready consultancy in Atlanta, told the Journal.
She tells her clients to "make eye contact and stay engaged."
Newberry charges $150 for video calls and $175 for in-person meetings; she also offers a services bundle with personal sessions, styling tips, and resume and cover letter assistance for $1,000, The Journal reported.
Lorie Stefanelli in Manhattan, owner of Greek Chic, charges $2,000 for its signature services package.
In 2022, 125,000 women sought admission to sororities at the 500 colleges providing data to the trade group National Panhellenic Conference, Dani Weatherford, chief executive of NPC, told The Wall Street  Journal. Between a fourth and a fifth of those women either quit or were rejected.
The National Panhellenic Conference serves as one of the world's largest sorority umbrella organizations, representing 26 national and international women's sororities in the United States and Canada, according to its website. Each member group operates independently.
Sarah Cohen, senior associate director of fraternity/sorority life at Indiana University, told Yahoo News in 2018 the consultant market emerged "in response to changes in recruitment," the news outlet reported.
"I believe it's a combination of chapter size and legacy [children of pledges] status concerns," Cohen said.
"Many national organizations no longer 'require' a chapter to accept a legacy, which means a legacy might attempt to work hard to ensure they get into their mother or sister's organization," Cohen said.
In other words, young women who would once have been shoo-ins at their mothers' or grandmothers' sororities are increasingly not guaranteed admission, so they're scrambling for acceptance alongside everyone else.
"Additionally, as chapter and community sizes continue to grow, the process will get larger and larger and women may be using consultants as a way to stand out in the masses," Cohen told Yahoo News. 
In 2019, the Panhellenic Association representing sororities at George Washington University gave to pledges, or potential sorority recruits, "coloring books, food, headphones and stress balls in two 'relaxation rooms'" to "alleviate anxiety" during the recruitment period, according to the GW Hatchet, as reported by The College Fix at the time.
MORE: Sororities quiet after student with Down syndrome doesn't get a single callback
IMAGE: KelseyJ/Shutterstock
Like The College Fix on Facebook / Follow us on Twitter