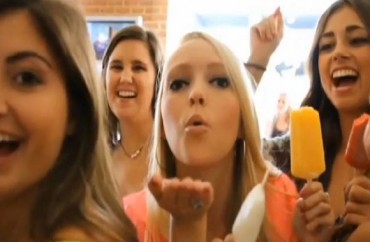 A University of Alabama sorority recruitment video has gone viral and prompted anger among some who believe it objectifies women and showcases a lack of diversity.
Some of the four-minute video features young women – blondes and brunettes – dancing, smiling, blowing kisses and frolicking in their bathing suits, sundresses and daisy dukes amidst glitter and bubbles.
Other scenes show them in cocktail dresses waving, smiling, laughing, gossiping, giving each other piggyback rides and doing cartwheels on a football field.
The Alpha Phi video was loaded on YouTube and reportedly viewed more than 500,000 times before it was taken down, but copies are still circulating.
"This video is not reflective of UA's expectations for student organizations to be responsible digital citizens," a campus official stated in response to the
video, reports NBC. "It is important for student organizations to remember what is posted on social media makes a difference, today and tomorrow, on how they are viewed and perceived."
Writing in AL.com, a guest columnist's op-ed headlined "Bama sorority video worse for women than Donald Trump" was shared more than 14,000 times on Facebook. It states in part:
No, it's not a slick Playboy Playmate or Girls Gone Wild video. It's a sorority recruiting tool gaining on 500,000 views in its first week on YouTube. It's a parade of white girls and blonde hair dye, coordinated clothing, bikinis and daisy dukes, glitter and kisses, bouncing bodies, euphoric hand-holding and hugging, gratuitous booty shots, and matching aviator sunglasses. It's all so racially and aesthetically homogeneous and forced, so hyper-feminine, so reductive and objectifying, so Stepford Wives: College Edition. It's all so … unempowering. …

During filming, did any of them stop to think about what they'd be selling? Did they think they were selling a respectable set of sorority chapter ideals? Did they think they were selling the kind of sisterhood that looks out for all women? Or were they focused on having the hottest video in the popularity contest that is sorority recruitment? Were they satisfied with being perceived as selling a gorgeous party-girl, cookie-cutter commodity? Were they satisfied with being the commodity?
Like The College Fix on Facebook / Follow us on Twitter
IMAGES: screenshots