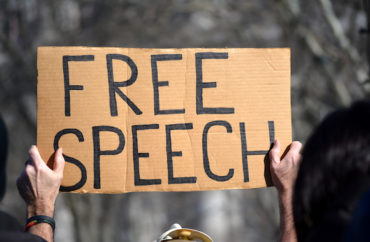 UPDATED
Sponsor says she's 'thrilled' with passage
After multiple legislative failures, the South Dakota Legislature has passed a bill to promote intellectual diversity on campus. HB 1087 is on its way to the governor's desk after the House passed the Senate-amended bill, 51-12, on Tuesday.
"We are thrilled that South Dakota has become the first state in the nation to adopt legislation requiring universities to promote intellectual diversity and not simply be dominated by the left," Rep. Sue Peterson, a sponsor of the bill, told The College Fix in an email.
She called this leftist domination "a national epidemic which has undermined the education of thousands of students and fueled out-of-control political correctness at the expense of hard-working taxpayers."
South Dakota is not the first state to adopt this type of legislation, however. Colorado and Tennessee both passed similar legislation in 2017.
Of the 12 representatives who voted against the bill, nine were Democrats, and three were Republicans. Seven representatives were excused from voting.
The South Dakota Board of Regents had adopted new policies last year intended to promote free expression and debate on campus. Peterson had previously expressed to The Fix that she wanted to lock in these reforms via legislation.
The bill forbids any public institution of higher education from discriminating "against any student or student organization based on the content or viewpoint of their expressive activity," according to its language.
MORE: Push to support intellectual diversity underway in South Dakota
IMAGE: Christopher Penler / Shutterstock.com
4/5/19: This article was updated to reflect that both Colorado and Tennessee passed legislation protecting speech on campus in 2017, prior to South Dakota's bill.
Like The College Fix on Facebook / Follow us on Twitter