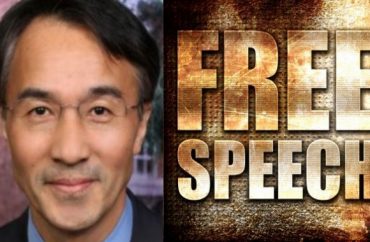 Professor Youm — more than his American-born colleagues at the University of Oregon — truly understands American Privilege
If you've been forced into military service and beaten up for anti-government views, you know all too well the extreme preciousness of freedom of speech, thought and expression.
That's why the efforts by Kyu Ho Youm, a naturalized U.S. citizen and currently the Jonathan Marshall First Amendment Chair professor at the University of Oregon School of Journalism and Communication, that criticize and call for scrutiny on his university's now infamous Bias Response Team must be lauded and shouted from the rooftops.
First, a bit on Professor Youm, who grew up in South Korea in the 60s and 70s, when it was a far more oppressive environment run by an authoritarian rule. Youm, in a recent speech, told his audience of his days as a student dissident who demonstrated for democracy. For that, he was "drafted" into the military for some re-education. There, he was "beat up" for reading Western publications such as Time or Newsweek, he said, adding such magazines were considered "seditious."
Youm told Media Asia in 2013 about his past: "Maybe it is because of my background as an American who was born in South Korea, and someone who was physically abused because of some kind of anti-government views or activities, I have a real-person perspective."
"I am looking at freedom of expression as a real-life issue rather than as an academic exercise," he continued. "Therefore, when some people say that freedom of expression is being abused and that's why it should be restricted or suppressed, I usually don't buy that kind of argument. To people who say that sometimes too much freedom is destructive to society, I say that there is no such thing as too much freedom."
With that as a backdrop, we come to an op-ed Professor Youm recently wrote that has been published in a couple Oregon newspapers. In it, he points out that those "who understand that free speech versus cultural sensitivity is not a zero-sum game should scrutinize the BRT in an uninhibited, robust and wide-open way."
The column went on:
While discussing cultural sensitivity under international public relations codes of conduct, I asked my strategic communication law students in May: "How many of you might feel uncomfortable if I said, 'America remains the land of freedom and opportunity?'" One student raised his hand.

As he explained why my comment about the United States, my adopted country, might discomfit him, I wondered, albeit for a fleeting second, whether the University of Oregon's Bias Response Team (BRT) would call me for an "educational conversation." Yes, if someone filed a possible micro-aggression complaint.

Since 1999, the BRT has sought to "provide targets of bias a safe space to have their voices heard, to promote civility and respect, to effect change around these important issues in a quick and effective manner, and to ensure a comprehensive response to bias incidents." The BRT and its annual report have attracted national media attention recently, including from The Washington Post and the National Review. The headline-grabbing attention has been highly critical, given the BRT's overreaching responses to a number of frivolous complaints.
BRT's overreaching responses to a number of frivolous complaints
Here's a sampling of what the University of Oregon's Bias Response Team has probed recently, often ending with administrators giving verbal warnings to offending parties:
A student reported that a sign encouraging cleaning up after oneself was sexist.

A student reported the newspaper gave less coverage to trans-students and students of color.

Staff members reported another staff member asked a coworker inappropriate questions and did not refer to them correctly.

A staff member reported that a poster featured a triggering image.
The one about the campus newspaper not giving enough coverage to trans-students was especially annoying to Professor Youm, who wrote:
As a media law teacher-scholar and a former campus newspaper adviser, I was stunned by another case that has made UO a laughingstock in the national press: "An anonymous student reported that a newspaper gave less press coverage to trans students and students of color," the BRT report stated. "Response: A BRT Case Manager held an educational conversation with the newspaper reporter and editor."

The BRT's ham-handed way of dealing with a student's complaint about the Daily Emerald's coverage was embarrassingly misguided. And it was a lost teachable moment for the BRT.
MORE: Bias Response Team investigates newspaper for giving 'less coverage' to transgender people
Youm points out he is not the only scholar at the University of Oregon concerned about the state of affairs: "A discerning UO colleague, who has endured a real-life chilling experience with the BRT, has told me: 'Now that we have become a laughingstock to the entire nation due to our relationship with the BRT, nothing could be more important than discussing this issue with the entire faculty and staff.'"
A panel discussion of professors to discuss the "specific ways we can balance inclusivity, free speech, and critical thinking" was recently held, the UO Matters blog reports.
Perhaps UO Matters summed it up best when it stated: "The Bias Response Team has received little scrutiny because university professors are in general terrified of being accused of bias. Fortunately Prof Youm is not."
MORE: University of Oregon Drops Charges Against Student for Lame Sex Joke
BRT is chilling free speech on campus: why & how? https://t.co/KbeLPJGHVR My OREGONIAN op-ed on UO's Bias Response Team.

— Kyu Ho Youm (@MarshallYoum) June 8, 2016
Not that intimidation tactics are not in the works.
"I have engaged with my journalism and law colleagues on the BRT in recent weeks. Few have been eager to step forward and express their thoughts on the BRT," Youm wrote. "And I have been advised to be more 'politically astute' in taking issue with the BRT and its impact on the UO faculty, staff and students."
But something tells us that Youm — who has seen firsthand what it's like to live under authoritarian rule — is not the type to let go of freedoms he (more so than many Americans today, unfortunately) cherishes.
MORE: U. Oregon rejects criticism its Bias Response Team akin to Thought Police
Back to that speech Youm gave recently: "A Global Perspective on Press Freedom Issues" at the BYU Kennedy Center. "Americans are privileged to criticize their government without worrying about any possibility that they might be put in jail overnight," he had said.
Youm — more than his American-born colleagues at the University of Oregon — truly understands American Privilege.
Like The College Fix on Facebook / Follow us on Twitter