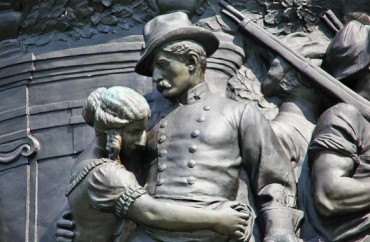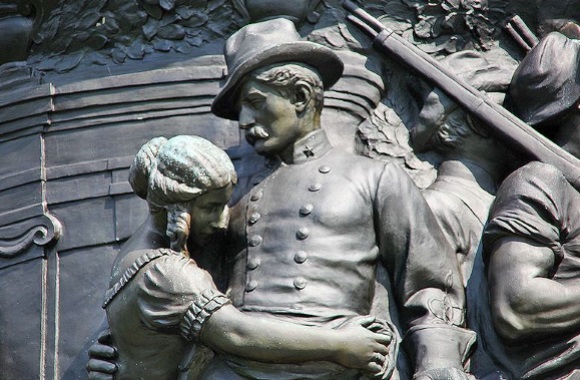 A Georgia native who recently penned a book that pays homage to Southern history and culture said that current efforts to eradicate from campuses any and all relics of the Old South or the Confederacy are misguided and "present a danger to the preservation and study of history."
Chris Queen, a freelance writer, University of Georgia alum, and author of "Football, Faith, and Flannery O'Connor: A Love Letter to the South," recently spoke to The College Fix regarding the flurry of demands by college students and faculty to remove from campuses reminders of the Old South – such as statues and flags.
"I believe that completely getting rid of these symbols does present a danger to the preservation and study of history. Any genuine understanding of the South — good and bad — must include an understanding of the culture of the era of slavery," Queen said via email.
Today, a main critique against Southern symbols on college campuses reasons they are reminders of slavery and oppression and are better suited for museums. Queen does not buy that argument.
"My gut reaction is to say that those rationales are based on hypersensitivity and thin skin. That may actually be true for some of these advocates, but I think that many of these people see the love of Southern culture in the wrong light," he said.
The push to remove these symbols are attempts to erase or forget about the darker sides of American history. Yet for Queen, an accurate understanding of the South must include and realize the South's history of slavery instead of removing it or pretending it never existed.
"There's a lot about the antebellum South that we as a country need to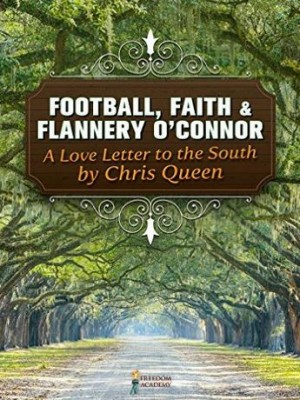 acknowledge and heal from, even a century and a half later. But stripping the aspects of the culture that are beautiful and meaningful doesn't foster healing," he said.
In the past several months, nearly a half dozen symbols and namesakes of the Old South and Confederacy have been targeted by students and university faculty for removal, with some being removed. Last month the University of Texas relocated a statue of Confederate President Jefferson Davis after the student government called for its removal.
In Kentucky, 72 historians representing 16 Kentucky colleges and universities have called for the state to remove a statue of Davis from its capitol rotunda. For some historians and professors, the statue "offers a visceral and potent miseducation."
In addition to statues, college students and faculty have  targeted buildings named after historical figures of the Old South as well, alleging they are ties to racism and slavery. The Confederate flag and any historical figure who ever supported slavery are also targeted by such campaigns.
At Yale, students have petitioned to rename Calhoun Hall, named after the seventh U.S. vice president, John C. Calhoun. At Clemson, the faculty senate has pushed to rename Tillman Hall, named after former South Carolina Governor Benjamin Tillman.
While saying he can't get into the minds of professors and students who oppose Southern relics, Queen said he can't but help believe they see a comparison between Nazi Germany and the Old South.
"People who embrace the culture of Nazi Germany today appear to do so expressly for the hate, while the vast majority of devotees of the Old Southern culture express their affection for that era minus the terrible evils of slavery and racism. For some reason, I think some folks can't (or won't) make that distinction," he said.
The recent push to remove Southern and Confederate symbols has risen out of the Black Lives Matter movement, which extended to college campuses from Ferguson and New York last fall. Calls for removal intensified after a racially motivated Charleston, S.C., church shooting that killed nine brought national debate over the Confederate flag.
The Confederate flag was removed in July from the state capital "after the state legislature passed a bill ordering it, buoyed by arguments that a flag that some see as a symbol of support for of racism and white supremacy couldn't remain on the Capitol grounds after the Charleston massacre," CNN reports.
Queen said ​he believes "there's a certain antipathy that has been brewing for many years" at colleges and university when it comes to the South.
He tells the story of taking a Civil War history class while a student at the University of Georgia in the early 1990s and how one "Yankee" student bucked the professor every chance she could because of the professor's "affinity for the culture of the South."
"Even back then, I could see the seeds of what we're witnessing today," Queen said.
But even more innocuous Southern symbols have become targets.
At Dartmouth, a longtime "Kentucky Derby" party was called racist and accused of recreating Antebellum South because of its preppy attire and exclusivity as a Greek life event.
Writing in the Washington Post recently, a research associate in American Studies at the University of Maryland declared it's time to "remove the Southern belle from her inglorious perch," adding: "Young white women serve as signs of nostalgia for a bygone, segregated South and all its attendant privileges."
The widely used and beloved "Ole Miss" nickname has long been a target of rancor due to its historic ties to slavery.
Queen said he believes the hesitancy of college communities to embrace the South stems from an inability to separate Southern heritage and culture from the "the ugliness of slavery."
"People outside the South — and a few people within the South — don't understand that the vast majority of people who love and value the 'Old Southern' culture are able to separate the gallantry and pageantry of that culture from the ugliness of slavery," Queen said.
Southern culture, as Queen describes in his book, includes "astounding cultural traditions, from music to visual arts to a beautiful literary tradition that spans the entire history of America" and is much more than just slavery.
Like The College Fix on Facebook / Follow us on Twitter