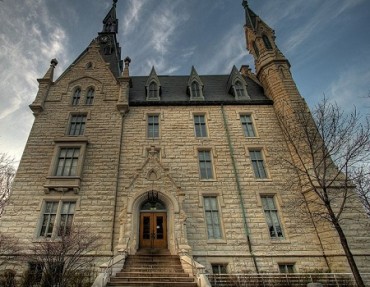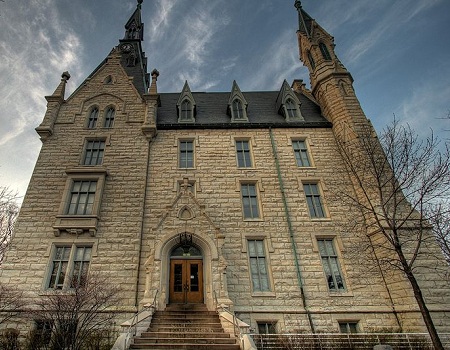 Top administrators at Northwestern University convened a panel discussion earlier this month to address a recent incident of racial harassment on campus.
A student named Tonantzin Carmona was walking home when several intoxicated female students jeeringly said to her, "What, no hablas ingles?" Since then, members of the university community have organized several events aimed at making the campus more tolerant and culturally sensitive. University President Morton Schapiro was present at this most recent panel on February 12th.
The event was introduced by John Marquez, an assistant professor of African American and Latino Studies. He began by dedicating his comments "to those indigenous peoples who were displaced or obliterated to build Evanston and Northwestern."
"I hope their ghosts haunt us," he said.
Marquez argued that students of color often feel "manipulated and exploited" by the university, and that at times, Northwestern's commitment to diversity seemed like a public relations tactic, rather than a genuine desire for change.
"It seems as if the students perceive themselves as being mere props in a political game," he said. "Dignity is more valuable than a diploma."
President Schapiro admitted Northwestern wasn't as diverse as it ought to be.
"We have a more diverse set of faculty, students, grad students, and others than ever before," he said. "But am I happy with where we are? No."
Schapiro mentioned that although he would "never declare victory on the numbers," black and Latino enrollment increased from 12% to 16% in the last three years. Schapiro wanted minority enrollment to reach 20% in the future.
But the atmosphere at the conference became tense, as some students demanded that the university initiate wide-ranging diversity policies, such as making a "cultural competency" class a requirement for graduation. Administrators appeared reluctant to take that step.
Schapiro argued it was virtually impossible to implement a cultural competency class due to Northwestern's many different schools and faculty-governed curriculum.
"Certain things the faculty can and should decide," he said.
Another controversy arose when Provost Daniel Linzer responded to a complaint that Northwestern needed a "chief diversity officer" to be responsible for diversity-related matters on campus.
Linzer said that such a person had already been hired, but that the job had been titled "assistant provost for faculty development," because with a chief diversity officer, diversity would be seen as "somebody else's job."
Hayley Stevens, president of a group for Hispanic students, was skeptical that this employee existed.
"As president of Alianza, I have never heard of this person until now," said Stevens.
Northwestern's most recent method of encouraging diversity was the creation of the University Diversity Council, which grew out of the Faculty Diversity Committee.
Linzer announced that the new council would have five task forces, with students working on each one: Faculty, Academic, Campus Life, Pipeline (which will deal with further diversifying the student body) and Lifetime Connections (which will deal with alumni relations.)
Linzer also touted other initiatives as proof of the university's commitment to diversity, including Northwestern's own Center on the Science of Diversity.
Addressing complaints about how students could take action if further incidents of discrimination occurred, Dean of Students Burgwell Howard spoke of a system to report bias incidents called the Bias Incident Reporting Team.
"It is a kind of common gateway to report an incident which may lead to University action," he said. "There will be an investigation to see if what happened really was a Bias Incident."
But for some students, this wasn't sufficient. One student in the audience told of having a difficult time as a minority at her overwhelmingly white high school, and said that Northwestern wasn't much better.
After the three and half hour-long conference, many still seemed skeptical of Northwestern's efforts to promote diversity.
"No, the university is not doing enough, and there are still key things that could be getting done," said Tyris Jones, a senior.
Asked if students should take more drastic action, such as by engaging in sit-ins or protests, Jones said, "We've had this conversation–but if we're not looking at some concrete outlines after this, then the gloves come off."
Like The College Fix on Facebook / Follow us on Twitter