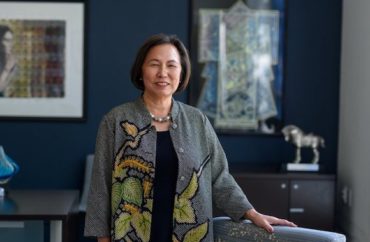 Asian-American faculty at Sonoma State University have penned a letter reminding their peers that race and gender bias are at play in an upcoming no-confidence vote against the school president.
According to The Press Democrat, SSU President Judy Sakaki is dealing with the referendum due to her handling of sexual harassment allegations against her husband Patrick McCallum, as well as her leadership "at a time [of] significant decline in enrollment and crippling budget deficits."
The California State University system ended up paying $600,000 to former SSU Provost Lisa Vollendorf in a settlement over claims of retaliation for the McCallum allegations. McCallum allegedly had been "an active presence on campus, including attending many SSU-sponsored events attended by employees."
The faculty's open letter claims "an incomplete narrative" has manifested regarding Sakaki's leadership.
"We recognize that your status as a Japanese American female president is historic, meaningful both symbolically and otherwise," the letter reads. "We believe it is important that we speak out to share our perspective so that the wider campus community may become more aware of ways that race and gender show up and shape a narrative.
We say that your performance as President, your entire career, is informed by your experience as an Asian American woman. And to imagine that race and gender are not somehow implicated in your experience on this campus and in the campus responses is simply inaccurate. …

As Asian Americans we are hurting, we are enraged, and we take on the work of expressing this with great care within the painfulness of this invisibility. As political scientist and scholar Claire Jean Kim writes, "there are no race-free zones in human existence." There are also no "gender-neutral" zones. Just as your background informs who you are, President Sakaki, those who speak about you are coming from a standpoint that is informed by their race and gender. …

[W]e call on our fellow SSU faculty and staff to bring an intersectional lens to bear upon how we understand the various issues at hand.
MORE: Harvard student government president targeted with anti-Asian racist notes
Signatory Lauren Morimoto said the letter doesn't mean all criticism of Sakaki — the first female Japanese-American president of a four-year university — is "racist or sexist," or even that those claims are the "primary things driving it." She said the letter is just meant to highlight that everyone's perspectives "are 'informed' by race and gender."
Art History Professor Letha Ch'ien, who supports the no-confidence measure against Sakaki, said she "hold[s] the well-being of Sonoma State at the forefront when considering her vote."
Ch'ien said while she appreciates the significance of Sakaki's tenure, she doesn't believe "experience of racism or discrimination excuses an individual's actions or eliminates review."
"We should not hold Dr. Sakaki to a higher standard or a lower one," Ch'ien said. "The question is very simply do we have confidence in the president's leadership?"
Read the Press Democrat article and full open letter.
MORE: UCLA won't explain how it used taxpayer dollars meant for research into anti-Asian discrimination
IMAGE: Judy Sakaki / Twitter screencap
Like The College Fix on Facebook / Follow us on Twitter