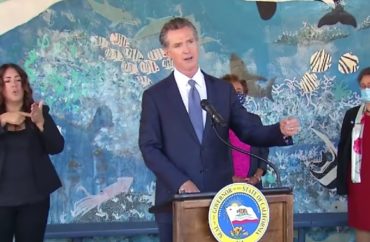 Nearly a year after California politicians gave out $1.4 million to study hate crimes and bias incidents against Asian Americans and Pacific Islanders, UCLA won't explain what it did with its portion of the money.
The College Fix contacted the public university's Asian American Studies Center and media team and asked how much money it received from the legislation and how the funds have been used.
Spokesperson Jessica Wolf responded and asked for a deadline on January 10 but has not provided a response and did not respond to a January 31 reminder.
Center director Karen Umemoto and research coordinator Christine Wang both have not responded to two media inquiries sent in the past month.
A news release sent out by the California university said the money would be used for studies on "hate crimes" and public policies to assist with "economic recovery efforts."
"The studies they will be conducting will ensure that our public policies effectively reach the most impacted AAPI communities in dealing with hate crimes, COVID-19 and economic recovery efforts," a statement from Democratic Assemblyman Al Muratsuchi said. The university included his quote in a February 2021 news release. AAPI stands for Asian Americans and Pacific Islanders.
MORE: Check out the Campus Cancel Culture Database
Democratic Assemblyman Phil Ting, a lead sponsor on securing the funds, has not responded to three requests for comment sent in the past three weeks. Nannette Miranda, a spokesperson for Ting, did not respond to questions on how the money has been used, if the Democratic politician's office has been in contact with the researchers and if he plans to request more funding.
Ting previously said that the number of hate incidents tracked by advocacy group Stop AAPI Hate is lower than reality because Asian Americans may not know how to contact the police. "I think that's only about one-tenth, or even fewer, of the actual hate crimes that are occurring, because most people don't even know the [AAPI] website exists or don't even know how to properly report a hate crime," Ting told ABC News last year.
Stop AAPI Hate does not track "hate crimes" but it does track "hate incidents," though media outlets often wrongly conflate the two.
Stop AAPI Hate said it received $10 million from a separate pool of money
The organization, led by San Francisco State University and Professor Russell Jeung, said it received a total of $10 million from a different $156.5 million pot of money.
The Fix contacted Jeung to ask how the organization planned to use the funding and for any results of the research. A media rep responded on his behalf.
"In California, a $156.5 million investment sponsored by the API Legislative Caucus was among the most significant actions to date in response to the surge in anti-AAPI hate and violence over the past year and addresses racial inequities that have harmed AAPI communities since the 1800s," spokesperson Sara Braun told The College Fix.
"$10 million of the budget was allocated to Stop AAPI Hate for its work tracking, responding, and preventing incidents of racial bias and harm," Braun said. The money came from a separate API [Asian and Pacific Islander] Equity Budget in summer 2021.
Braun pointed The Fix to the latest published report from September 2021. It reported a "total of 10,370 hate incidents against Asian American and Pacific Islander" since the organization began tracking statistics in March 2020.
The organization has said that Asian discrimination has been on the rise due to stereotypes about coronavirus and the responsibility of China for the disease.
The biggest share of hate incidents are not attacks on Korean-Americans or Japanese-Americans, but instead "verbal harassment," which represents 62.9 percent, and "shunning," which represents 16.3 percent. Shunning is defined subjectively as the avoidance of Asians in public.
Braun said the goal aggregate data, advocate for "human rights and civil rights protections" and "[s]upport "community-based safety measures and restorative justice efforts," in response to a question about how Stop AAPI Hate would distribute its findings.
MORE: University hate crime report leaves out most suspects are black, Latino
IMAGE: Politico/YouTube
Like The College Fix on Facebook / Follow us on Twitter