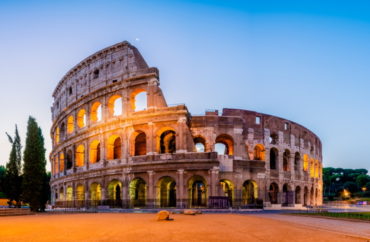 Ideologies "deeply opposed" to the West are taking over colleges and society, argued two scholars at a recent event hosted by the Clemson Institute for the Study of Capitalism.
Andrew Sullivan, contributing editor at New York magazine, said people need to "stand up" against attacks on the West, especially at universities. These ideologies are hostile to liberal education and the free exchange of ideas, he said during the March 4 event.
Yoran Brook, former executive director of the Ayn Rand Institute, said Western civilization is weakening from within.
"The internal forces that are anti-Western, anti-reason and anti-individualism are rising and in the assent," he said, "and they're all around us."
Brook said it is "truly scary" that there are "very few defenders" of Western civilization and the ideals of the Founding Fathers.
Sullivan called social justice a "religion" which works against Western civilization.
"In social justice, you even have a born-again moment when you become woke and every single moment of your life is judged according to that morality," he said.
The speakers offered different interpretations of what Western civilization means.
Sullivan said Western civilization emerged from "the marriage of Jewish theology to Greek reason," and is the "fusion of a faith" that demands equality for all people, but is also subjected to reason.
Brook argued Western civilization is grounded in Greek thought as manifested in two fundamental ideas: that "reason is our means of knowledge" and that "individuals matter."
Brook, as an objectivist in the tradition of Ayn Rand's atheistic individualism, called on people to abandon religion and embrace reason, saying religion "has been the counterforce to Western civilization."
"Religion should be dead," he said.
Sullivan challenged Brook's perspective, saying reason cannot give people meaning or supply answers to unpredictable events or the impermanence of life.
When asked to identify the pinnacles of Western civilization, Sullivan supplied the answers of Plato, Shakespeare, essays of Michel De Montaigne, Chartres Cathedral in France, Rembrandt's self-portraits, Picasso's Guernica, Allegri's Miserere Mei Deus, and Mozart.
Brook listed Aristotle, John Locke, French Encyclopedists, Victor Hugo's Les Miserables, Michelangelo, Frank Lloyd Wright, Chopin, Bethoven, and Tchaikovsky.
On the issue of immigration, Brook said immigration "strengthens" civilization "to the extent that we know what that civilization is and are willing to defend it."
Sullivan said immigration will lead to a higher GDP, but it is important to examine the effect immigration has on a culture.
"If you let a country that has its own culture and meaning be completely overturned or completely scrambled by the immigration of people from elsewhere too quickly," he said, "integration will not happen, resentment will go up."
Sullivan said "diversity is actually not a strength" for multicultural and mutiracial societies because it decreases trust. It also makes it more difficult to have a welfare state, he said, because people are less willing to help people they feel separated from. He cited this as the reason for the declining welfare state in Scandinavia.
Sullivan called for a revival of liberal education in order to defend Western civilization at America's colleges.
Western civilization "is the best and historically has been the best," Brook said.
"We need a revival of the ideas of the founding of this country which are reflected in the Declaration of Independence," Brook said. "We need a revival of the idea that principles matter."
MORE: Scholar defends teaching Western Civ as progressive educators work to vilify it
IMAGE: Pajor Pawel / Shutterstock
Like The College Fix on Facebook / Follow us on Twitter