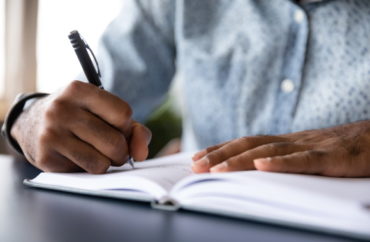 SAT scores show college readiness for minority students who lack other opportunities to show their promise
Massachusetts Institute of Technology's recent decision to reinstate mandatory submission of standardized tests for admissions decisions was the right choice given that the SAT and ACT remain more equitable and reliable predictors of minority students' academic success.
Even if scores of black students and other disadvantaged minorities lag for reasons outside of their control, as a metric to determine who will benefit most from prestigious universities, the tests are more accessible than high-level coursework, expensive extracurriculars or fancy application enhancements purchased by the rich.
MIT and other prestigious universities should continue to rely on them.
Wall Street Journal columnist Jason Riley weighed in Tuesday on MIT's path-breaking decision to reinstate the SAT and ACT requirement for admission, noting that "[s]ocial science ​​has long demonstrated that the SAT is a better predictor of college performance than high-school grades are for black students, while the reverse is true for white and Asian students."
That may be because disadvantaged black students are more likely to lack access to high-level course or enrichment offerings that might otherwise prove their readiness.
"Access to advanced coursework is highly stratified," wrote psychology Professor Kathryn Paige Harden on April 2 in a piece in The Atlantic titled "The SAT Isn't What's Unfair."
"Less than half of American high schools, for instance, offer calculus," Harden wrote. "And parents know firsthand that their children's sports teams, volunteer positions, study-abroad trips, and summer internships require substantial investments of time and money."
"In a society characterized by pervasive inequalities in opportunities to learn, looking for a measure of a student's "merit" that is somehow unencumbered by unearned advantages is a fool's errand."
"Dropping any admissions requirement," she continued, "is necessarily a decision to weigh other factors more heavily. If other student characteristics, such as essays, recommendations, and coursework, are more strongly correlated with family income than test scores are, then dropping test scores actually tilts the playing field even more in favor of richer students. This was the situation that MIT found itself in after it suspended its SAT requirement in 2020."
Moreover, if the SAT and other standardized tests measure academic preparedness, income and race disparities are not signs of an unfair test — they signify unfairness in our educational systems.
"Throwing the measurement away doesn't remedy underlying injustices in children's academic opportunities," Harden wrote, "any more than throwing a thermometer away changes the weather."
Similarly, Riley pointed out: "Given that millions of blacks are relegated to some of the worst-performing K-12 schools in the country, why would anyone be surprised by racial gaps in SAT scores?"
"Standardized tests aren't causing these disparities, just revealing them," he stated. "And the responsible way to address the problem is not by scrapping the test but through more school choice and better test preparation."
Stu Schmill, MIT dean of admissions, stated that "our ability to accurately predict student academic success at MIT⁠ is significantly improved by considering standardized testing — especially in mathematics — alongside other factors."
He also wrote that "not having SATs/ACT scores to consider tends to raise socioeconomic barriers to demonstrating readiness for our education."
Even more, Schmill stated:
Our research shows standardized tests help us better assess the academic preparedness of all applicants, and also help us identify socioeconomically disadvantaged students who lack access to advanced coursework or other enrichment opportunities that would otherwise demonstrate their readiness for MIT.
Unfortunately, Riley acknowledged in his Wall Street Journal piece that "standardized testing opponents nonetheless claim the SAT is biased towards affluent whites."
He quoted professor and "antiracist" scholar Ibram Kendi: "The use of standardized tests to measure aptitude and intelligence is one of the most effective racist policies ever designed to degrade Black minds and legally exclude Black bodies."
But if that's correct, Riley asked, "how is it that a racial minority—Asian students—tend to score highest on the SAT? And how is that even low-income Asians outperform middle-class students from other racial and ethnic groups?"
"Black students," Riley stated, "have the most to lose as schools move away from objective test scores and toward more-subjective holistic assessments of applicants."
MORE: MIT reinstates SAT, ACT requirement
IMAGE: Fizkes / Shutterstock
Like The College Fix on Facebook / Follow us on Twitter