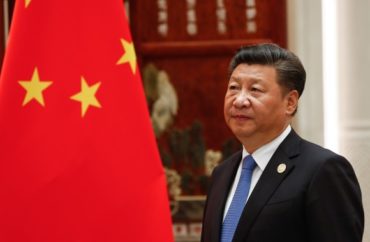 At a San Francisco gala in March 2014, Stanford University President John Hennessy accepted an award for the school's "Advancement in U.S.-China Relations."
The award was granted by the Committee of 100, a group of Chinese Americans in business, government, academia and the arts, and the school boasted about it on its website.
Stanford began accepting Chinese graduate students back in the 1970s. In 2009, the school signed a contract to open a Chinese government-funded Confucius Institute, with the goal of promoting Chinese culture and language. In 2012, under Hennessy's oversight, the Stanford Center at Peking University opened, billed as a "hub" for Stanford students in China.
Yet these entanglements with China were happening as the Chinese government continued its oppressive human rights abuses, including discriminating against ethnic minorities that make up around 10 percent of the country's citizens.
While Stanford tightened its embrace with China, Communist Party General Secretary Xi Jinping grew increasingly authoritarian, demanding more ideological indoctrination and control and setting up concentration camps for Uighur and other Muslim minorities.
This, of course, runs directly counter to the school's stated progressive pedigree that espouses human rights, freedom of expression, and racial equality.
"Hypocrisy is the price of funding from China," National Association of Scholars Policy Director Rachelle Peterson told The College Fix via e-mail.
"Colleges and universities declare themselves protectors of human rights and a safe place for the vulnerable. Yet they embrace the Chinese Communist Party and are complicit in the stifling of free speech," Peterson said.
According to the U.S. Department of Education, Stanford has accepted more funds from China since 2013 than all but three other schools in the U.S. (Harvard University, the University of Southern California and the University of Pennsylvania top the list.)
During this six-year period, Stanford reported $58.1 million in China-based gifts and contracts, according to an analysis by Bloomberg.
Yet Stanford's tightening relationship with China occurred as the U.S. government was warning colleges and universities of the growing influence of China on American campuses.
In 2018, the FBI issued a report indicating some foreign scholars on American campuses "seek to illicitly or illegitimately acquire U.S. academic research and information to advance their scientific, economic, and military development goals."
The report noted the Chinese government "has historically sponsored economic espionage, and China is the world's principal infringer of intellectual property."
Specifically, law enforcement was worried about Confucius Institutes, which allow Chinese nationals access to American students and intellectual property. The institutes are largely funded by Hanban, an organization directly under the purview of the Ministry of Education in Beijing, but which also has ties to the External Propaganda Leading Group of the Chinese Communist Party Central Committee.
Further, the presence of Confucius Institutes on campus often thwarts free expression on campus, as the institutes often restrict discussions relating to Tibet, Tiananmen, Xinjiang, the Falun Gong, and other human rights issues in China.
Stanford itself found this to be an issue upon opening its own Confucius Institute. In 2012, Richard Saller, a dean at Stanford, said Hanban's initial offer of $4 million to start an institute on campus came with a requirement that Tibet not be discussed. Stanford objected, and ultimately got the money anyway.
Representatives for both Stanford's administration and the school's Confucius Institute failed to respond to e-mails requesting comment for this story.
On May 1 of this year, the National Association of Scholars issued a revised list of 86 Chinese-sponsored Confucius Institutes attached to American universities, including six that were set to close in the summer of 2020. In March, Sen. Chuck Grassley (R-Iowa) issued a warning to universities that Confucius Institutes were "fronts for Chinese propaganda."
Further, the 2018 FBI report the FBI warned American universities against such "joint research opportunities," such as branch campuses and joint research centers, saying collaborative environments "can enable a foreign adversary to obtain your research."
"They can also provide an opportunity to spot, assess, and befriend fellow STEM students or researchers who might assist—either wittingly or unwittingly—in passing your research and development to a foreign adversary," said the FBI report.
Yet Stanford has taken an "all of the above" stance to entanglements with China, despite the school's overt commitment to human rights and social justice.
In 2014, the university began hosting the Center for Human Rights and International Justice, which purports to train "a new generation of leaders with the knowledge and skills necessary to protect and promote human rights and dignity for all."
When the Black Lives Matter protests began following the death of African American Minneapolis man George Floyd at the hands of police, Stanford's Office of Student Engagement quickly compiled a list of student organization statements in favor of the protests. The Office of Student Affairs keeps a webpage dedicated specifically to Black Lives Matter, and held a "Vigil for Black Lives" on June 5.
Meanwhile, black Americans in China have complained that police in some areas of the country have ordered bars, restaurants, and hotels to stop doing business with people of African origin.
Yet the lure of Chinese funding has been too much for the university to resist, calling into question both the school's commitment to human rights and the security of its research.
"A Confucius Institute on campus is pretty much a billboard declaring the university places a low value on intellectual freedom," Peterson said.
MORE: Senators pressure their universities to drop Confucius Institutes as threat to America
IMAGE: Shutterstock.com/Gil_Corzo
Like The College Fix on Facebook / Follow us on Twitter