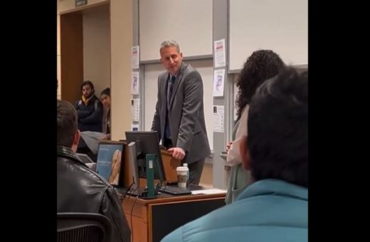 'Whole process took 10 seconds,' law student told the Washington Free Beacon
Stanford University administrators reacting to the outcry over students shouting down a federal judge failed to deliver the mandatory free speech training they promised, some students said.
The training "wasn't much of a crash course in free speech," the Washington Free Beacon reported Wednesday.
"Students were given six weeks [in the spring 2023 semester] to watch five prerecorded videos, most about an hour long, then asked to sign a form attesting that they had done so."
However, the attestation form did not review the content or require that students had opened the videos.
"I watched none of the videos," one student told the Free Beacon. "I never even opened the links. On the day the training was due, I went to the attestation link provided by the university, checked a box confirming I watched the videos, and that was the end of the matter. Whole process took 10 seconds."
"I overheard people joking about the program in the courtyard," a second-year law student said. "The students complying with the training were the ones who already agreed with it."
The videos included a discussion between a public defender and a prosecutor. Also featured was a talk by the dean of Berkeley Law School, Erwin Chemerinsky, who went over First Amendment law and its application to college campuses.
On March 22, Stanford Law Dean Jenny Martinez issued a memorandum responding to an incident earlier that month in which a crowd of Stanford Law students berated Fifth Circuit Court of Appeals Judge Kyle Duncan, who had been invited to speak at Stanford by the Federalist Society.
"Enforcement of university policies against disruption of speakers is necessary to ensure the expression of a wide range of viewpoints," Martinez wrote in her March 22 memo, The College Fix reported.
Martinez also wrote in the memo that the law school would hold a mandatory half-day session during the spring quarter "for all students on the topic of freedom of speech and the norms of the legal profession."
"A faculty committee will plan the session and invite speakers representing a range of viewpoints," Martinez wrote.
"Lawyers in training must learn to confront injustice or views they don't agree with and respond as attorneys," she wrote.
MORE: Two federal judges say no more Stanford law clerks following disruption debacle
IMAGE: Stanford Law School
Like The College Fix on Facebook / Follow us on Twitter