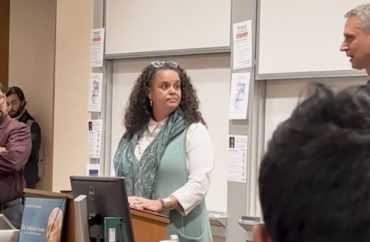 Stanford Law School is refusing to comment on the status of Tirien Steinbach, its diversity, equity and inclusion associate dean who was placed on administrative leave this spring after she helped shout down a federal judge during his guest speech.
The College Fix reached out to Stanford Law School for comment six times over the last two weeks through email and phone calls to ask whether or not Steinbach is still employed at the school and when, if at all, her leave will be lifted.
The law school did not respond to any request for comment.
In her bio for a June 26 op-ed published at The Hill, Steinbach is referred to as an "attorney who has served as associate dean for diversity, equity and inclusion at Stanford Law School," using past-tense wording. But Stanford Law's website still has Steinbach listed in its directory as an associate dean.
Steinbach was reached for comment at her personal email, and she has not responded to requests from The College Fix.
Steinbach became the focus of national controversy in March after she stood by while rowdy and vulgar student protesters shouted down Fifth Circuit Court of Appeals Judge Kyle Duncan as he attempted to give a speech.
As The College Fix previously reported, Duncan called for an administrator to help restore order, whereupon Steinbach came to the podium and gave her own lengthy protest speech.
In a prepared statement, Steinbach said she was "pained" to inform Duncan that he was "welcome here" at Stanford to give his talk. But "is the juice worth the squeeze" Steinbach said, an apparent metaphor as to whether Duncan's right to speak was worth the pain his words would cause students.
Her lengthy tirade garnered national attention, and many called for her to be removed from the SLS faculty, including three students. Steinbach was placed on leave in late March.
"First, Associate Dean Tirien Steinbach is currently on leave. Generally speaking, the university does not comment publicly on pending personnel matters, and so I will not do so at this time," Stanford Law Dean Jenny Martinez stated in a March 22 memo regarding the incident.
"I do want to express concern over the hateful and threatening messages she has received as a result of viral online and media attention and reiterate that actionable threats that come to our attention will be investigated and addressed as the law permits," Martinez wrote.
"Finally, it should be obvious from what I have stated above that at future events, the role of any administrators present will be to ensure that university rules on disruption of events will be followed, and all staff will receive additional training in that regard," Martinez added.
As Judge Duncan had entered the classroom, one protestor screamed: "We hope your daughters get raped!" An apology letter was written to Duncan two days after the event, and he graciously accepted it.
"I appreciate receiving Stanford President Marc Tessier-Lavigne's and Stanford Law Dean Jenny Martinez's written apology for the disruption of my speech at the law school. I am pleased to accept their apology," Duncan told National Review.
Although Steinbach violated the law school's disruption policy, there is word she may return in the fall. Speech First published a video in early July saying that a "paid administrative vacation is not enough." The free speech group did not respond to requests for comment on the topic.
Steinbach has had a variety of positions and fellowships in legal justice and advocacy, including the East Bay Community Law Center, Mesa Refuge, and the ACLU.
In 2017, she launched the Coalition for Equity and Inclusion in Law, a regional cohort in the Bay area, and also joined the ACLU as Northern California's director of programs.
The East Bay Community Law Center said Steinbach left in January 2019, and told The College Fix via email this month that she still works at Stanford as far as they know.
In 2022, she graduated as a fellow from the Mesa Refuge center, where she taught people to heal from white supremacist culture.
The ACLU website, however, only has a profile page in Spanish, and there is no clear distinction of Steinbach's current title.
Mesa Refuge and the ACLU Northern California division were also reached for comment via email. After requesting to get in contact with Steinbach, Mesa Refuge told The College Fix that they were unable to divulge private information about past or present fellows, including Steinbach. The College Fix has not received a response from the ACLU regarding Steinbach's current employment.
MORE: Judge ambushed at Stanford refuses to apologize for calling protesters 'idiots, bullies and hypocrites'
IMAGE: social media screenshot
Like The College Fix on Facebook / Follow us on Twitter