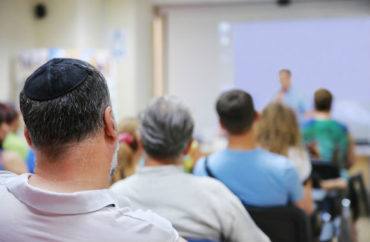 Two Jewish counselors at Stanford's campus mental health clinic have filed a complaint alleging discrimination on the job, according to the Jewish News of Northern California.
Psychiatrist Ronald Albucher and eating disorder therapist Sheila Levin filed the complaint alleging they had been subjected to antisemitic behavior as a result of the department's Diversity, Equity and Inclusion program training program.
The complaint was filed with the U.S. Equal Employment Opportunity Commission and California's Department of Fair Employment and Housing.
In the complaint, Albucher and Levin say beginning in 2019 they were required to take part in weekly Diversity, Equity and Inclusion workshops facilitated by other employees of the clinic.
While Albucher says he was initially supportive of the requirement, his enthusiasm dimmed when the first assignment of the workshops was to read Robin DiAngelo's book "White Fragility." Albucher objected to the pessimistic tone of the book and to the book's thesis that all white people are "fragile" on race issues.
When he expressed that opinion in a workshop, Albucher says he was shouted down by several co-workers.
Things soon got worse when the clinic split workshop attendees into separate groups for whites and for minorities.
Albucher said he was uncomfortable being placed in the whites-only group, given the history of white supremacist actions towards Jews.
"As a gay Jewish man, I have have my own perceptions on white supremacy, and the history of this country," he told the Jewish News. "My family has had to contend with white supremacy," he said, noting he has family members who died in the Holocaust.
Levin, too, objected to joining the whites-only group, writing in the complaint that "as a Jewish person, she does not feel an affinity with white identity."
Albucher and Levin also objected to the way the group responded to a "Zoombombing" incident days earlier, when the n-word and swastikas were shown at a student council meeting. The pair noted the use of the racial slur was fully addressed, but the swastikas were not mentioned.
Albucher asked why the group "decided to omit any mention of anti-Semitism so as not to dominate the discussion about anti-Black racism," according to the complaint. He was later accused of "trying to derail" the conversation when he brought it up again.
In May 2020, Levin emailed a group leader to ask how she could be helpful. "As a Jewish, White cis woman you have immense power and privilege," she was told. "It is important to understand how you are a part of the systemic racism and oppression that takes place in this country."
Later, a DEI facilitator said the group would soon "explore how Jews are connected to white supremacy and will address anti-Semitism." According to the complaint, another DEI representative told the group she "takes an anti-Zionist approach to social justice."
Read the full story here.
MORE: Stanford pro-Palestine group vandalizes College Republicans' flyers with anti-Semitic cartoons
IMAGE: Alleksander / Shutterstock
Like The College Fix on Facebook / Follow us on Twitter