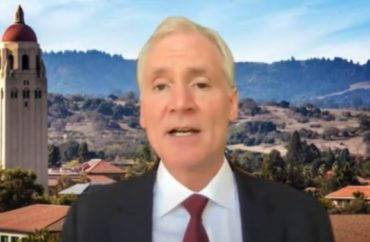 'Every single day you're going to be bombarded with them, so we would be failing our students if we didn't expose you to a diversity of views'
Stanford University's president recently defended free speech in an interview with the campus paper. His defense comes after years of free speech controversies, including a call to investigate the conservative campus-based Hoover Institution.
The criticism came from a handful of professors, including David Palumbo-Liu, an Antifa sympathizer who sits on a university free speech committee.
Stanford professors have also tried to cancel Scott Atlas, a skeptic of COVID restrictions and a former advisor to President Donald Trump.
"A foundational aspect of our mission is that the university has to be a place that supports and nurtures a diversity of ideas and viewpoints," President Marc Tessier-Lavigne (pictured) said in his interview with The Stanford Daily. "It's also central to our educational mission: to prepare students for a world in which you will all have to engage with diverse points of view. Every single day you're going to be bombarded with them, so we would be failing our students if we didn't expose you to a diversity of views."
Among the greatest challenges to free speech today is the dehumanization of individuals, "treating them as the 'other,'" Tessier-Lavigne said. "It's essential, I believe, for the health of our nation as a whole, to come together and model that respectful discourse among individuals. And that requires humanizing our interactions."
He also commented on the threats to free speech:
Problems arise in a number of ways. One, is that some speech can have the effect of silencing others…which can shut down learning by cowing individuals so they don't express their views; they don't take intellectual risks by exploring different ideas.
In the Stanford Daily interview, Tessier-Lavigne insisted on the importance of modeling "a community in which discussion can occur that's reasoned, that's evidence based, that's rooted in curiosity. Yes, it can be vigorous, but it must be respectful of one another and not have the effect of shutting down the conversation."
The president also commented on the growing importance of social media to free speech concerns on campus.
Responding to "offensive or abhorrent" speech on social media, even when it is protected speech, "can be particularly challenging, because on social media people can be emboldened to post repeatedly, or they can post anonymously — it can spread rapidly."
"It's so important for these conversations to occur in person," the California university president said. "One of the big problems with social media is that people are just some lines of text or something on Instagram — they aren't seen as the person that they are."
Bringing people together can "humanize the interactions, so people can see that 'wow, there's a really smart person over there who has a different point of view from what I have. Why is that? Maybe they have a good point. Maybe they don't, maybe I can persuade them?'"
One solution to building a vigorous free speech climate on campus is to encourage more speech, curiosity, and humility, Tessier-Lavigne said.
"Ask the other students why they're saying what they're saying, try to understand their position. Maybe they'll persuade you, maybe you will persuade them. But that is the kind of community that we have to aspire to," he said.
"If Stanford can model the appropriate free speech culture on campus, it "will reverberate through society more broadly," the university president predicted.
MORE: Cancel Culture Database entries for Stanford
IMAGE: Commonwealth Club of California/YouTube
Like The College Fix on Facebook / Follow us on Twitter