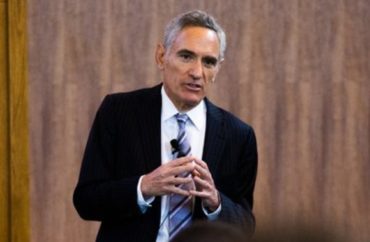 Scott Atlas, who has weathered unrelenting hostility from the media and his own Stanford University colleagues since he joined President Trump's coronavirus task force, is done being a punching bag.
A senior fellow at Stanford's Hoover Institution, Atlas published a statement in The Stanford Review calling out misrepresentations of his positions on COVID-19 measures and defending the scientific validity of the "focused protection" approach advocated in the Great Barrington Declaration, co-written by his onetime Stanford Med colleague Jay Bhattacharya.
The onetime chief of radiology at Stanford Med was responding to a Faculty Senate resolution approved last week.
It not only claimed he was harming Stanford's academic standing, but that he had violated the Stanford Code of Conduct by calling on Michigan residents to "rise up" against Gov. Gretchen Whitmer's renewed lockdown measures.
"I am a health policy scholar, medical scientist and doctor," Atlas wrote:
I have always used science and factual evidence to help generate the best possible policies to save lives. My views in favor of the careful protection of our nation's most vulnerable while safely re-opening society are far from contrary to science. These views are held by some of the world's top epidemiologists from Harvard, Oxford, and Stanford itself, as well as by thousands of medical and public health scientists from around the world [referring to the authors of the Great Barrington declaration and its signatories]. I have also repeatedly recommended mitigation measures, including social distancing and mask-wearing when one cannot distance. Media reports to the contrary are simply false.

It should be no surprise that scientists and doctors may disagree over the best response to the unprecedented challenges of the pandemic. But in responding to COVID-19, we cannot sacrifice the free exchange of ideas, the essential process to discover the scientific truths allowing us to fight the disease. America and its universities must allow differing views without intimidation or rebuke if it hopes to successfully develop responses to such crises and to solve the public health threats of the future.
As he did initially on Twitter, Atlas pushed back against the "misinterpretation" of his "rise up" tweet as inciting violence against the Michigan governor. "This manufactured controversy only distracts from what should be our shared goal: to save lives and reduce the harms from this pandemic," he wrote.
The Faculty Senate has "take[n] sides" on what should be uninhibited debate on "the complex scientific and medical questions raised by the pandemic." His colleagues have made it more likely that the Stanford administration will "criticize other faculty who disagree with Stanford's institutional views on these or other issues."
His colleagues apparently feared giving too much authority Stanford to investigate them for unpopular views, too.
An approved amendment calling on Stanford to investigate – and possibly dismiss – Atlas for his COVID-19 policy recommendations was later overridden by another amendment, prompted by faculty fearful of the precedent they were setting, The Stanford Daily reports.
IMAGE: Scott W. Atlas/Twitter
Like The College Fix on Facebook / Follow us on Twitter