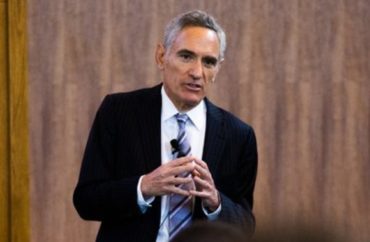 Faculty make the case for Stanford to fire them for their own stupid ideas
Stanford University has high-profile COVID-19 lockdown skeptics – Jay Bhattacharya, John Ioannidis, Scott Atlas – with impeccable medical credentials.
Some professors hate sharing an institution with these experts, believing their conclusions from worldwide data on non-pharmaceutical interventions are some right-wing plot to kill everyone.
Hundreds of faculty have gone a step further than screaming into the void, demanding that Stanford cut ties with the university research center that has funded some of their work.
Fortunately, the administration isn't bowing to pressure – yet.
The Chronicle of Higher Education has a feature on the decades of "tension" between leftist faculty and Stanford's Hoover Institution, whose director must be approved by Stanford trustees but whose operation is otherwise largely independent of the university.
MORE: Harvard, Stanford Med professors decry 'pointless shutdowns'
The tension has been exacerbated this year by President Trump's appointment of Atlas (above), onetime chief of radiology at Stanford and longtime health policy analyst, to his otherwise pro-lockdown coronavirus task force, which brushes aside the massive and well-documented harm to public health from a myopic obsession with eradicating one virus.
A theater professor, who obviously knows more about infectious disease than an MD, groused that he "was not told that part of my job would be to serve as a living shield for the Hoover Institution." I'm sure Atlas wasn't told his job was to seek approval from this clown, either.
More serious was two open letters – one by dozens of Atlas's Stanford Med colleagues, another by more than 100 Stanford faculty across disciplines – that defame Atlas as a quack who has no business recommending national infectious disease policy and use him as wedge to get Stanford into "renegotiation" with Hoover.
Um, what?
An author of the [second] letter, David Palumbo-Liu, a professor of comparative literature, said he wasn't sure what a renegotiation would entail or where it would lead. In February, Palumbo-Liu will make a presentation to the Faculty Senate requesting that a committee be formed to look into the matter. "So my interest is basically in flexing the muscle of faculty governance in a way that it hasn't been exercised in some time," he says. "After that, it's really up to the administration as to how they listen or don't listen to the faculty."
Hmm..wonder where I've heard that before re protection from immune mechanisms other than antibodies, re children having extremely low risk, and on and on… #TruthWillPrevail #FactsMatter #WeKnowTheScience https://t.co/W91sCjZTqL

— Scott W. Atlas (@SWAtlasHoover) November 11, 2020
MORE: Stanford epidemiologist warns lockdowns increase cancer deaths, suicide
It's hard to overstate how idiotic this attack on Hoover is. Like all these critical faculty, the research center promotes views that it believes have merit. It doesn't claim the university endorses those views.
If Stanford had to answer for every stupid or superstitious idea by its faculty (like that cloth masks are magical force fields against fraction-of-a-micron lifeforms), it would be on a constant firing spree.
As Provost Persis Drell pointed out at a recent faculty senate meeting, Hoover is full of Stanford faculty, including its new director Condoleezza Rice, who's been at the university for nearly 40 years. President Marc Tessier-Lavigne dryly noted that one Stanford person saying something "does not mean it reflects the views of colleagues or of the university."
There's also Hoover's financial benefit to the university: It brought in $34 million last year and its endowment is a healthy half-billion dollars.
Aside from defending Hoover's place at Stanford (and the money it rakes in), however, administrators aren't doing much, according to Bhattacharya, a onetime Hoover fellow and co-author of the Great Barrington Declaration on COVID-19.
He noted to the Chronicle that the Stanford Med faculty letter against Atlas was sent on an "official university email list," which Drell belatedly apologized for.
MORE: Lockdowns that ignore risk level protect the 'low risk,' Harvard Med prof says
IMAGE: Scott W. Atlas/Twitter
Like The College Fix on Facebook / Follow us on Twitter