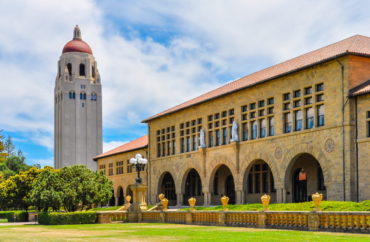 At Stanford, 'intolerance towards Catholicism is fair game,' one student argues
Two recent anti-Catholic incidents were brushed off by Stanford University leadership, according to a report in the Stanford Review.
The Dec. 29 piece in the center-right student news outlet detailed the two incidents that rattled campus Catholics.
In one, someone poured out red wine on the floor of the Memorial Church on Nov. 1 while students observed All Saints' Day, red wine being "a critical part in the worship of Catholics (and most Christians) due to its role in the celebration of the Eucharist," reported the Review.
In a second incident before Thanksgiving, "a man unaffiliated with Stanford interrupted a weekday Mass celebrated in Old Union."
"He screamed graphic insults about the Catholic Church. Merely a few weeks later, the same man was allowed into Memorial Church for Mass, albeit flanked by a security official. His presence rightfully caused discomfort for those who witnessed the prior incident," the Review reported.
The piece is authored by student Walker Stewart, who noted Dean for Religious & Spiritual Life Tiffany Steinwert told him the wine incident was an accident. Stewart scoffed at the notion:
Taking Steinwert at her word, this means that someone happened to go inside Memorial Church carrying an open container of red wine — which just happens to have sacramental significance for Catholics — on a Tuesday evening at the exact time that people were congregated outside. Then, the person somehow 'accidentally' spilled enough wine to create a large stain on the floor before slipping out without telling anyone around about the 'accidental' spill.

The other explanation of events — offered by people who were actually there — that someone intentionally entered the Church with the intent of dumping wine on the floor, accounts for the events of that evening far better than Steinwert's statement. Yet Stanford and ORSL chose to embrace the fallacy that the spill was an accident because it justifies their silence.
In contrast, Stewart noted, administration was quick to denounce the fact that two notes were left on a Dia de los Muertos display calling it idolatry. Stanford had strongly condemned that incident, stating in a message "any form of religious bias that shows intolerance to certain rituals and practices of others is unacceptable."
Stewart argued that if "the Stanford administration does not condemn these anti-Catholic incidents, the message of their continued silence will ring loud and clear: intolerance towards Catholicism is fair game."
MORE: Liberal Catholic university slashes jobs as enrollment and revenues drop
IMAGE: J. Jim / Shutterstock
Like The College Fix on Facebook / Follow us on Twitter