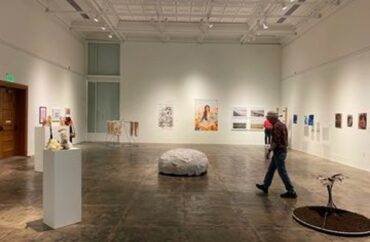 The exhibit 'included an aspect of physical audience interaction,' the student newspaper reported 
The Stanford departments of art and art history presented the work of jury-selected student artists in a new exhibit focused on "race, culture and sexuality."
The multi-media exhibition pieces, selected from department-wide submissions by two art professors and the Stanford galleries curator, features "a bean bag, covered by patches of cloth with student-written messages about sexual consent," according to The Stanford Daily.
The work "include[s] an aspect of physical audience interaction," inviting viewers to touch it and sit on it, according to The Daily.
The beanbag is "a metaphor for sexual discomfort," the paper reported.
Student artist Ava DeConcini described the meaning of her work in an attached note.
"I asked students to share times they felt uncomfortable and received hundreds of stories describing the same sensation: realizing you want to get out of a situation you had anticipated feeling more comfortable in and not immediately knowing how to do so gracefully," DeConcini wrote.
Another work in the exhibition "narrat[ed] timeless bonds of kinship among Native Americans," while a third "convey[ed] how Black bodies often get objectified, appropriated, hyper-sexualized and commodified," The Daily reported.
The works in the exhibit "[give] artists a safe space to express and celebrate each other," it continued.
Curator and art Professor Enrique Chagoya described the ninth annual exhibition in a statement posted to the Stanford department of art and art history website.
"With this selected survey we hope to encourage the innovative spirit already present among our students with a visual experience that presents many different approaches to visual thinking in all media found throughout our academic programs," Chagoya wrote. "As a faculty member, I constantly feel privileged to experience our students' work, and often I also feel lucky to learn from them new ways of seeing and new ways of thinking."
The exhibition will be on display at the Stanford Art Gallery through Dec. 8.
MORE: University removes art history professor for showing two Prophet Muhammad depictions
IMAGE: Stanford University
Like The College Fix on Facebook / Follow us on Twitter