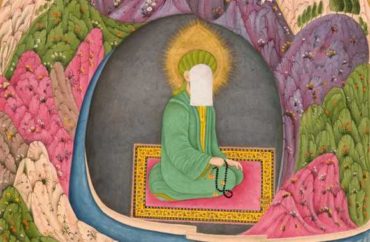 'One of the most egregious violations of academic freedom in recent memory'
Hamline University in Minnesota has reportedly declined to renew the contract of an art history professor because they showed two ancient art images depicting the Prophet Muhammad during an optional online class segment.
The College Fix reached out on Monday and Tuesday to campus spokesman Jeff Papas, the university's public relations specialist Michael Strasburg, and a general communications contact, to ask for the name of the professor, confirmation his contract was not renewed, and the explanation for the non-renewal. No response has been received.
The professor has not been identified in various reports on the incident.
Many — but not all — Muslims object to visual representations of religious figures such as Muhammad, understanding them as form of idolatry, according to Britannica.
"An instructor who showed an Islamic painting during a visual analysis — a basic exercise for art history training — was publicly impugned for hate speech and dismissed thereafter, without access to due process," Christiane Gruber, a professor of Islamic art at the University of Michigan, wrote in a December 22 essay for New Lines Magazine. 
One of the paintings (pictured) is a depiction of Muhammad with a veil and halo from a 15th century manuscript, now preserved at the Metropolitan Museum of Art, according to Gruber.
The other, a depiction of Muhammad receiving a divine revelation from the angel Gabriel, is from an early 14th century manuscript by the statesman and scholar Rashid-al-Din.
"It is considered by scholars, curators and art collectors a masterpiece of Persian manuscript painting … often taught in Islamic art history classes at universities across the world, including in the U.S., Europe, the Arab world, Turkey and Iran," Gruber wrote.
"A student complained about the image's inclusion in the course and led efforts to press administrators for a response. After that, the university's associate vice president of inclusive excellence (AVPIE) declared the classroom exercise 'undeniably inconsiderate, disrespectful and Islamophobic,'" Gruber wrote, adding the segment depicting the images of Muhammad was "optional."
An instructor who showed a painting of the Prophet Muhammad was publicly impugned & fired by Hamline University, Minnesota. In @newlinesmag, Islamic art professor Christiane Gruber provides details about the incident & how it undermines academic freedom https://t.co/UOpY94R5Vf

— New Lines Magazine (@newlinesmag) December 26, 2022
The Oracle student newspaper reported on December 6 that in a video of the class it reviewed, "the professor gives a content warning and describes the nature of the depictions to be shown and reflects on their controversial nature for more than two minutes before advancing to the slides in question."
The incident took place on October 6, but the university response continued through November and December, according to the article.
The email from the vice president of inclusive excellence, David Everett, on November 7 "outlined a plan to address Islamophobia, with steps including an in-progress forum on Islamophobia and a reporting form," according to the paper.
In a statement to The Oracle, the embattled professor said, "My perspective and actions have been lamentably mischaracterized, my opportunities for due process have been thwarted, and Dr. Everett's all-employee email accusation that 'undeniably… Islamophobic' actions undertaken in my class on Oc. 6 have been misapplied."
The Oracle also "published and then removed a defense of a lecturer who showed the painting of Muhammad," Reason reported December 26. The news outlet published the letter, written by Mark Berkson, chair of the university's department of religion.
"I believe that, in the context of an art history classroom, showing an Islamic representation of the Prophet Muhammad, a painting that was done to honor Muhammad and depict an important historical moment, is not an example of Islamophobia," Berkson wrote. "Labeling it this way is not only inaccurate but also takes our attention off of real examples of bigotry and hate."
PEN America, a nonprofit advocating for the free expression of artists around the world, decisively condemned the university's alleged actions.
"If these reports are accurate, Hamline University has committed one of the most egregious violations of academic freedom in recent memory," Jeremy Young, senior manager of free expression and education at PEN America, stated in a December 23 news release.
"Non-renewing a professor's contract under these circumstances is academic malpractice of a type that chills speech among all faculty, particularly contingent faculty who cannot rely on the status of tenure to protect their academic freedom. This professor's contract should be renewed immediately, and Hamline administrators should take an opportunity to remind themselves what academic freedom means."
MORE: Professor steps down after quoting N-word while discussing Rockwell painting
IMAGE: Cora Timken Burnett Collection of Persian Miniatures and Other Persian Art Objects, Bequest of Cora Timken Burnett, 1956
Like The College Fix on Facebook / Follow us on Twitter