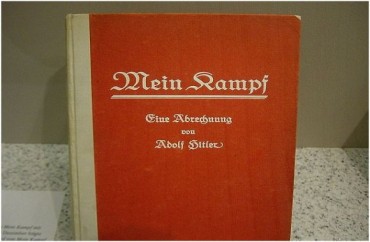 Reported to the university following a social media post
A Stanford University student has been reported to campus officials for reading Adolf Hitler's "Mein Kampf" book.
"A Protected Identity Harm report has been filed after the circulation of a Snapchat screenshot," of the student, according to The Stanford Daily.
The reporting system "is the University's process to address incidents where a community member experiences harm because of who they are and how they show up in the world," according to Stanford.
"The photo of the student reading the book was posted to another student's Snapchat story Friday evening, according to a screenshot of the image obtained by The Daily," the campus newspaper reported. It did not provide a copy of the image nor any further context that would explain how the student harmed anyone.
"Swift action was taken by the leadership in the residential community where both the individuals who posted and the one pictured are members," campus rabbis Jessica Kirschner and Laurie Tapper wrote in an email to Jewish students.
The Fix emailed Kirschner and asked if there should be punishments for the student and for more information on the Snapchat and the email the rabbis sent out. The Fix also asked if there should be a removal or other action taken against the 76 copies of "Mein Kampf" that the university has.
"I do not believe we should ban books, or punish the reading of books, even books whose content is as offensive as Mein Kampf," she said via email. "This is antithetical to the purpose of the university and the spirit of free inquiry."
"As a residential community as well as a learning community, it is important for students to have space and support to work through how individuals interpret things differently, and the distance that can emerge between intent and impact," the rabbi said on Monday evening.
She did not respond to a follow-up question that asked for clarification on Hillel's involvement in the report.
University officials are "working with the leaders of the residence that the students belong to address the social media post and its impact on the community," the paper reported, based on comments that spokesperson Dee Mostofi provided it.
Mostofi and the campus media team did not respond to a Monday morning email from The Fix that asked for more information on what specifically the student did to harm others and if the university would remove or restrict access to its own copies of the book.
A Jewish student argued that whether the book was read as part of a distasteful joke, as rumored, or for a class, it should be allowed.
"Though Mein Kampf carries a hateful, genocidal message packed with poor writing, this should not disqualify the book from being read," Julia Steinberg wrote in the Stanford Review. "In fact, Mein Kampf is worth reading because it exposes the mind of one of the most consequential men of the 20th century, and allows readers to comprehend the kind of thinking that, when given power, leads to violence."
MORE: High school investigates coach for tweet criticizing gay marriage
IMAGE: Kevin Wong/Flickr
Like The College Fix on Facebook / Follow us on Twitter