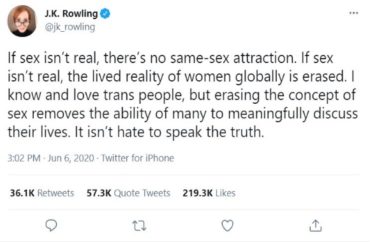 Stanford University student staff recently issued a statement condemning the author of Harry Potter for her alleged "transphobic, anti-Semitic, and racist" comments.
Students living in the Harry Potter-themed dorm were told in late March that J.K. Rowling's views on transgenderism are unacceptable, according to a column in the Stanford Review.
The statement was made during the dorm's first virtual house meeting, Stanford student Maxwell Meyer wrote.
The statement read: "We want to acknowledge that J.K. Rowling has made many transphobic, anti-Semitic, and racist statements over the past year. Her beliefs do not reflect our values as a house, and we want to make it clear that we do not tolerate comments like hers in this dorm. Our theme … is intended to make this space safe and fun for you this quarter."
The College Fix reached out to Meyer, who declined comment.
Meyer argued in his column that the claims against Rowling are inaccurate, pointing out that she has been a longtime supporter of LGBT rights while also acknowledging biological sex. He also asserted that Rowling has made no racist or anti-Semitic statements.
"The scapegoating of a children's fantasy author for fabricated claims of racism is a very bad sign at a university, even if she's very wealthy and secure in her livelihood, as Rowling is," he wrote. "But I'm not worried about protecting a billionaire; I'm worried for the students who are expected to learn in an environment where false claims of bigotry are not just acceptable, but official policy."
"We are now witnessing the mass hallucination of racism," he wrote.
Meyer also pointed out what he contends is "the most chilling part of the house theme statement: the implied threat that if you don't join the witch hunt, you'll become the next target."
"…We weren't asked whether J.K. Rowling's beliefs reflect our values, we were told that they don't. No examples of 'comments like hers' were given, but we were still warned that they won't be tolerated," Meyer wrote.
"Just what sorts of comments do they mean — perhaps the 'anti-Semitic and racist' ones that they made up?"
Meyer ends his column by questioning whether he will be punished for a "thoughtcrime" if he, like Rowling, believes in "both equal rights for trans people and the reality of sex as a category."
"If that now constitutes thoughtcrime at Stanford, then I should probably start packing my bags. I think we deserve to know the position of university leadership on this issue, including the faculty and administrators who are responsible for our residential education. Is Stanford a safe space for thought, or from it?"
The College Fix also reached out to university media relations to ask about this situation and the department did not respond to multiple requests for comment.
In June of 2020, Rowling tweeted "If sex isn't real, there's no same-sex attraction. If sex isn't real, the lived reality of women globally is erased. I know and love trans people, but erasing the concept of sex removes the ability of many to meaningfully discuss their lives. It isn't hate to speak the truth."
She defended her original tweet in a thread, saying:
"The idea that women like me, who've been empathetic to trans people for decades, feeling kinship because they're vulnerable in the same way as women – ie, to male violence – 'hate' trans people because they think sex is real and has lived consequences – is a nonsense."
Despite Rowling's explanation, she continues to receive criticism alleging her statements were transphobic.
MORE: Mainstream Stanford student journalists apologize for using racist imagery in tweet
IMAGE: Twitter screenshot
Like The College Fix on Facebook / Follow us on Twitter