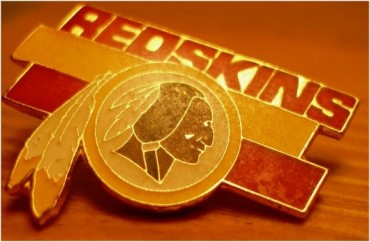 The Pennsylvania Human Relations Commission has ruled that a state high school can longer utilize any imagery which "negatively stereotypes Native Americans."
At the very beginning of this year, The Fix reported that Neshaminy High School's "Redskins" mascot and team name were under review by the commission after a long-time foe of both, Donna Fann-Boyle, had filed an official complaint.
Ms. Fann-Boyle is an alumna of Neshaminy, as are her children.
Fann-Boyle had called the school's name and mascot "racist," and had said she's "always been offended" by it.
According to the York Daily Record, although the Bucks County, PA high school will have to scrap Native images, it will be able to retain the "Redskins" name — provided the district educates students within 30 days "that […] it's not acceptable to stereotype any group."
(Specifically, the ruling notes the Neshaminy district can keep the "Redskins" name, although Neshaminy HS is the only district school with that moniker. The district's Maple Point Middle School nickname is "Indians.")
A majority of commissioners voted Monday in agreement with the Human Relations Commission' hearing examiner that the term "Redskins" is "offensive" to Native Americans. Continued use of the term is discriminatory and in violation of the Pennsylvania Human Relations Act.

"What was acceptable long ago may no longer be acceptable. This is one such instance," said commission Chair Joel Bolstein.

Commissioner Michael Hardiman said he agreed the school district violated the Pennsylvania Human Relations Act

"The term 'Redskin' is, and for a number of years, has been recognized as a racial slur," he said.

Neshaminy's continuing use of the team name "Redskins," along with the use of various logos and imagery related to Native Americans as a part of its student environment, is an unlawful act of discrimination, he said.
According to The Philadelphia Inquirer, the district had supported keeping the status quo. The Inquirer says it's "unclear" whether athletic uniforms would be affected by the decision, as well as Neshaminy's gym floor image — a "Native American in a headdress." Presumably, the "negativity" of these images needs to be determined.
By rule, HRC Executive Director Chad Dion Lassiter did not get a vote on the matter. He has been a vocal opponent of Neshaminy's use of "Redskins" and Native imagery, and had called Fann-Boyle's complaint a "teachable moment on colonialism."
Read the YDR and Inquirer articles.
MORE: PA school's 'Redskins' nickname GOES before 'human relations' commission
IMAGE: Stephen Train / Flickr.com
Like The College Fix on Facebook / Follow us on Twitter